'The Team Is Still Young' – Leon Balogun Pinpoints Reason Behind Eagles Draw Vs Sierra Leone:: All Nigeria Soccer
'The Team Is Still Young' – Leon Balogun Pinpoints Reason Behind Eagles Draw Vs Sierra Leone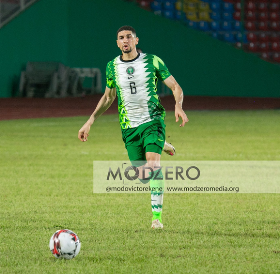 Glasgow Rangers defender Leon Balogun has played the inexperience card as he spoke about Nigeria's 4-4 draw with Sierra Leone in an Africa Cup of Nations qualifier on Friday, November 13.
The Super Eagles were leading 4-0 inside 30 minutes only for the Leone Stars to pull off an amazing comeback to tie the game with four minutes left.
Of the eleven players named in the starting lineup, three defensive-minded players in the shape of goalkeeper Maduka Okoye, Kevin Akpoguma and Zaidu Saunsi were making their competitive debuts.
On his message to disappointed Super Eagles fans and how he's looking forward to the return leg, Balogun told reporters : "To be very honest, I don't like these kind of messages because my job is to play on the pitch, I am not here to hold great speeches so I don't want to offend anyone.
"I understand that there is huge disappointment, you can't believe us because we are the ones who suffered for it at first but we brought this on us.
"The team is definitely determined to make up for this as I said before, the only thing I'd say is don't give up on the team because mistakes are human."
Balogun has urged the fans not to give up on the team as they are capable of delivering great performances.
"Everybody if you just check yourself in the mirror today, at the end of the day you'll maybe find one moment where you'll say that wasn't my best.
"Don't forget that and just be faithful because we have been delivering some great performances over the past few years, we have some great achievements as well.
"The team is still young, you can blame that maybe a bit on lack of experience what happened yesterday.
"You normally learn your greatest lessons when you make mistakes not when you are on top so this was a wake-up call and we are going to make sure that we take the right message from there," added the Super Eagles number 6.
After three rounds in Group L of 2021 Africa Cup of Nations qualifying, the Super Eagles lead the way with seven points and would qualify with a win against Sierra Leone on Tuesday if Lesotho drop points at home to Benin.
Ifeanyi Emmanuel
Copyright ANS
All rights reserved. This material,
and other digital content on this website, may not be reproduced,
published, rewritten or redistributed in whole or in part without prior
express written permission from allnigeriasoccer.com