Teams Bring Heat During UEFA Champions League Semis:: All Nigeria Soccer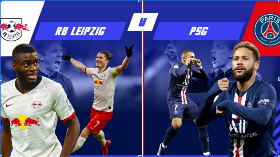 Teams go All Out Seeking That Elusive Spot in the Finals
The Champions League semi-finals brought some serious heavyweights to the table. With all four of these teams vying for that revered spot at the finals, it was anyone's guess which two teams would come out on top.
The teams in question, Leipzig- PSG, Bayern- Lyon, had fans everywhere wishing for a spot, any spot, to watch their favorite teams outperform their counterparts.
With the ongoing pandemic and social distancing, stadiums are void of any hype or frenzy, but the teams did their best to make fans proud.
So which teams came out on top, and why did some perform barely close to what was expected?
Promising moments
Some games just take off right off the bat, but this was not exactly one of them. Lyon seemed to have leverage over Bayern for a better part of the first half, with many attempts at goal.
Ekambi missed a remarkable opportunity to put the team ahead, while Depay steered the ball wide and clear of the goal post.
From the onset, it seemed Bayern Munich's defensive line
needed reinforcements
, but Lyon did not seize the opportunity at goal.
Leipzig lost out on epic opportunities at goal as well. Yussuf's header found its way nowhere near the goal, while Nkunku and Olmo also had weak attempts at goal.
All these opportunities would cost the teams heavily in terms of goal opportunities later during the game.
Unfortunately, Neymar had two missed attempts at goal when his kicks hit the goal post. This would have seen PSG take the lead earlier in the game, and with a bigger margin
Key players
For the Bayern- Lyon game, the latter was pretty much done soon after the second part of the second half.
Gnabry scored the first goal and quickly made a second, leaving the French side wondering how quickly things had changed.
It had been predicted that they would in fact give Munich a run for their money. How exciting that would have been.
With a few minutes left to the game, Lewandowski gave his team and fans everything to smile about as he placed them at 3-0.
Paris- Saint Germain had outstanding performances from its key players, including of course Di' Maria. Marquinhos was first to send a goal in from a nifty free-kick, courtesy of Di Maria, who himself put their lead at 2-0 before they
paused for half- time
.
Di' Maria was the start player for the day, while Gnabry set the pace for Bayern Munich's destruction.
Weak/ Strong points
The Leipzig side had a weak defensive side from the beginning, giving Neymar and the like plenty of chances to score, which luckily they did not.
With players like these as your opposition, you would spend more time defending while your offense strategizes a new approach.
Some of the few missed opportunities for PSG should've raised a red flag for Leipzig to take the team seriously. On the flip side,
Bayern's statistics should have made their opposition a tad more concerned about tactical play. They team had an unbeaten winning streak since December of last year.
Mbappe didn't make much of an impression during his game, neither did Neymar, but their team saw it through to the finals.
Tim Werner was missing too for the Leipzig team, and being a star player with 28 goals in a little over thirty games his absence greatly hindered the team's performance.
In the two games, some players put out in their all while others seemed to take it as a pre-season game. Key players like Neymar didn't do much to set their team heading in the right direction.
Some would say Lyon did a commendable job to try and fend off the fire-breathing Bayern team, but that is debatable. Lyon saw itself go through guts and glory to
soar past Juventus
and even Manchester City during its fight for a chance at the
UEFA
Champions League Title.
The final score for Bayern vs Lyon was a staggering 3-0 to Bayern, with PSG vs Leipzig ending at 2-0 to the French team. It is clear that both sides had their share of demoralization at some point during their meets.
None of the weaker teams realized even one goal to save face. It is also clear that two teams went out guns blazing, and these two were set for the Champions League finals later in August, 2020
Ifeanyi Emmanuel