'Saka Is Our Best And Most Talented Player' – Fans Hail Arsenal Superkid After FA Cup Display :: All Nigeria Soccer
'Saka Is Our Best And Most Talented Player' – Fans Hail Arsenal Superkid After FA Cup Display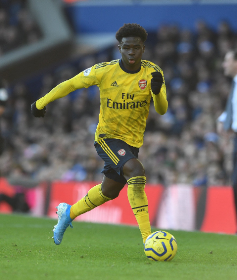 Arsenal are through to the last four of the FA Cup after leaving it late to beat Sheffield United 2-1 at Bramall Lane on Sunday afternoon, with talented Anglo-Nigerian teenager going the distance for the visitors.
Ivorian winger Nicolas Pepe dispatched a penalty on 25 minutes to open the scoring and the scoreboard did not change until the 87th minute when David McGoldrick netted the equaliser, before Daniel Ceballos restored Arsenal's lead in added time.

Saka was involved in the build-up for the penalty awarded after captain Alexandre Lacazette was brought down in the area as well as the game-winning strike.

The Hale End Academy product who has attacking and defensive attributes no matter his position on the pitch earned praises from fans for his display against the Blades.

Here's what they are saying on Twitter :

@ScoutedFtbl : "Clip doesn't quite catch it, but Bukayo Saka's touch, balance to beat Norwood is top class. Follows it up with a big run to help create the space for Eddie Nketiah's pass. So impressive after yet another full 90 minute start."
@afcDW : "Nketiah and Saka did really well in the build-up to the Ceballos goal, by the way.Saka's turn away from pressure was excellent, then a nice pass and continuing his run, followed by Nketiah playing a great ball out to Pepe. Made the right decisions at the right moments."
@SamHartJourno : "Can't believe Saka is only 18, so good on the ball and excellent, intelligent movement. Good decision making from Nketiah too."
@ucIwinners : "Saka is going to be one of the best players in the world one day, that guy is unbelievable."
@azofficialll : "Saka looks good –  Easily gonna break into the England squad. ESR is the next de bruyne man you heard it here first."
@elspanishgooner : "Saka is our best and most talented player. He's only 18 years old, let that sink in."
@_lukmanB : "Saka issa proper Arteta player. Hope he sign that thing."
@supercoolmoh : "Arsenal don't deserve Saka sha.Well, he's gonna use Arsenal as stepping stone like so many others before him."
@AizzatNazran : "Saka is such a great talent. He has played in LB, LW, RW and now CM. Very versatile.Get it done."
@BobbyVj : "No matter what, you got to give it to BUKAYO SAKA. The talent in this guy, is unbelievable. In my own opinion; there is likelihood Barcelona, Real Madrid and Juventus's list he is there they have been scouting."
@elvinho1993 : "Saka again today was brilliant! He started the second goal."
@eddbas : "Great win for Arsenal! But Saka has got quite an engine, kid is allover the pitch. He's a keeper!"
@dentalgiorgio : "Saka can do no wrong in my eyes Atleast for the next two years."
Igho Kingsley
Photo Credit : arsenal.com