Russia-Ukraine war latest: Moscow says warship still afloat despite explosion; west says Ukraine claim of strike 'credible' – live | World news
15:08
France to move its Ukrainian embassy back to Kyiv
13:36
Fate of millions of people with disabilities in Ukraine 'unknown', UN says
Updated

12:56
Alexei Navalny has called for an "information front" against Russia's invasion of Ukraine as the jailed opposition leader asserted that poll results showing 75% of Russians support the conflict were a "Kremlin lie".
In an extended series of tweets, Navalny called on western leaders to support a massive social media ad campaign in order to break through Kremlin propaganda regarding the invasion.
"We need ads. Lots of ads," wrote Navalny. "A huge national anti-war campaign will start with an advertising campaign. Two hundred million impressions a day to reach every Russian internet user twice. Stories, posts and prerolls. Across Russia, in cities and villages. On every tablet and every phone."
In the statement, he called on Joe Biden, Boris Johnson, Ursula von der Leyen, Mark Zuckerberg and Sundar Pichai, the head of Google owner Alphabet, to "urgently find a solution to crush [Vladimir] Putin's propaganda using the advertising power of social media".
The advertising campaign would be a way around the Kremlin's efforts to shut down independent media in Russia. Along with most independent websites and newspapers, the Russian censor has also blocked access to Facebook, Twitter and Instagram.
It also marks the opposition leader's biggest foray yet into the complicated question of how widely the Russian public supports the war in Ukraine. Polling results, including from the independent Levada Centre, have shown majority support among Russians for the war.
12:36
Germany's chancellor is under growing pressure to authorise the delivery of heavy weaponry to help Ukraine defend itself against Russia's looming eastern offensive, with Olaf Scholz's coalition partners accusing him of failing to live up to his promises.
The centre-left leader had surprised even close partners in his three-party coalition when on 27 February he announced an "epochal change" in Germany's foreign policy to boost defence spending and relax its restrictive stance on exporting weapons to conflict zones.
Six weeks on, prominent politicians from allied parties urged the Social Democrat to follow up words with actions after Germany was accused of stalling on delivering heavy weaponry to Ukraine and blocking a wholesale ban on Russian oil and gas.
Scholz has to "not just purse his lips but start to whistle", said the Free Democratic party's Marie-Agnes Strack-Zimmermann, who chairs the Bundestag's defence committee.
With a view to the apparent failure of economic sanctions in stopping Vladimir Putin's military campaign, she said there had to be a renewed focus on hard power.
"There is only one answer that Russia understands: to continue to try to end the war through talks – but with one hand visibly on the holster," said Strack-Zimmermann. "That means that Germany has to also supply Ukraine with heavy weapons to help it defend itself, as long as they can be handled by the Ukrainian army."
12:20
Ukrainian strike on Russian ship is 'credible', western official says
Western officials have said the intelligence picture about the state of the Moskva warship is not yet clear but that there are doubts about the Russian version of events.
"I am not aware previously of a fire onboard a capital warship which had led to the ammunition magazine exploding as a consequence," one official said, calling it "remarkably inept" if true.
Officials said it was credible that the Ukrainian forces had damaged the ship with a Ukrainian missile system they had developed.
"The fact that it's been damaged to a point where it is either inoperable or under tow is a significant blow," the official said, adding that there would have been "enormous determination, ingenuity and initiative of Ukrainian forces in order to be able to strike at Russian forces where perhaps they previously thought they were invulnerable, and a significant impact on Russian maritime operations".
Western officials said it was unlikely British anti-ship missiles were involved in the apparent attack. Johnson promised on his recent trip to Kyiv that those would be made available, but the official said that had not happened yet. "It would appear that it's not a UK capability," the official said.
The UK has trained the Ukrainian navy in the past as part of Operation Orbital but the official said it was "difficult to draw a causal link" between the British training and the operation.
Western officials also warned that the weather in the east of Ukraine was having a major impact on the redirected Russian offensive, with no new major successes for Russia in the Donbas.
Updated

11:48
Damaged Russian warship still 'battling fire', US defence official says
Updated

11:26
UK sanctions two close associates of Roman Abramovich
Updated

10:58
Germany has seized the world's largest superyacht after "extensive investigations" determined that it is owned by the sister of the sanctioned the Russian oligarch Alisher Usmanov.
The German federal police said on Thursday it had seized the $600m (£458m) Dilbar after weeks of painstaking financial investigative work exposed the yacht's true ownership despite a complex web of "offshore concealment".
The vessel is flagged in the Cayman Islands and registered to a holding company in Malta – both tax havens favoured by the global ultra-rich to park their wealth.
German authorities said they had determined the yacht was ultimately owned by Usmanov's sister Gulbakhor Ismailova.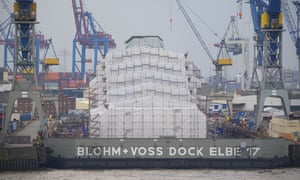 Usmanov, a telecoms magnate who owns the £48m mansion Beechwood House in Highgate, London and the 16th-century Sutton Place estate in Surrey, was sanctioned by the UK last month. The billionaire, who has had significant interests in the English football clubs Arsenal and Everton, had already been sanctioned by the EU and the US.
Ismailova and another of Usmanov's sisters, Saodat Narzieva, have also been subjected to UK and EU sanctions. The UK government said Usmanov "indirectly transferred assets to Ismailova, including leaving his sister as the only beneficial owner of the yacht Dilbar".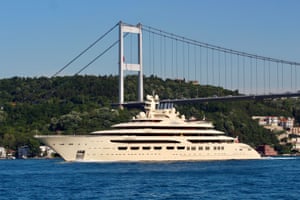 Updated