'Iheanacho Is The Perfect Replacement For Aguero At City' – Fans Hails Leicester Striker After Goal Vs Aston Villa :: All Nigeria Soccer

'Iheanacho Is The Perfect Replacement For Aguero At City' – Fans Hails Leicester Striker After Goal Vs Aston Villa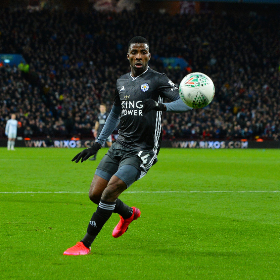 Kelechi Iheanacho continued his rich vein of goalscoring form on Tuesday night, netting for the second game running for Leicester City in their loss to Aston Villa in the Carabao Cup semifinal second leg.
With 72 minutes on the clock at Villa Park, the Super Eagles striker pounced on a through ball from Harvey Barnes to blast home an equaliser for the Foxes, his fourth goal in the cup competition this season.
Brendan Rodgers' side might have lost out 2-1 in the end to a late Trezeguet's effort, but the fans were more than pleased to see the Nigerian score again.
Below are some the tweets gathered of his performance on Twitter :
@JonathanLCFC: Have you ever seen a better 'rags to riches' story in a #lcfc shirt than Kelechi Iheanacho. Laughed out of town in his first few months with the club. Now, a crucial cog in the wheel. So happy for the lad 🦊.
@PhemmyTosin: Iheanacho is low key becoming a big game player and cult hero for the foxes this season… Omo Naija 💪💪💪 .
@BabaKoiki: That's 8 goals in 12 matches for Kelechi #Iheanacho if I'm not mistaken. Lad is flaming at the moment. #AVLLEI.
@princeokey10: Aston villa through to the final.. Iheanacho has been excellent.
@KingMak01: Kelechi Iheanacho hes magic you know.
@barnaby04: Kelechi Iheanacho is like that stone that was rejected by the builder which now become the cornerstone and pillar of the building. Keep improving and shining daily.
@monemerichard: Credit to Rohr for having the balls to drop Iheanacho for the last world cup, that wake up call and having a good manager in Rogers seems to have revived his career.
@dinhoptarh: Very soon we will start debating which player is more important to Leicester City @LCFC between Kelechi Iheanacho @67Kelechi, Ndidi @Ndidi25 or Vardy @vardy7.
@MovingKorrect: Every Leicester City fan is singing Kelechi Iheanacho's praises. Under Claude he disgusted them. Life in general . I hope he leaves now that he is valued and is banging in goals because he needs to play more. The talent has always been there. #AVLEI
@Official_Oye: This Iheanacho is not smiling again 🔥🔥🔥.
@drewCTNG: Iheanacho is having a really good season.
@sf_adebayo: Kelechi Iheanacho is 🔥.
@Tobiloba_O: Iheanacho is the perfect replacement for Aguero at City not Gabriel Jesus. 🤦🏽‍♂️
@OmobulejoTobi: I'm really happy for Iheanacho for that superb goal he score now, Iheanacho have now score Aston Villa home and away !!!!!! And he is the highest goal scorer in Cali cup …
@victorIbah: Looks like Brendan Rogers has revived Iheanacho's career.
Emmanuel Chianza
Photo Credit : lcfc.com