House returns to ratify debt deal with Biden agenda still in the balance – live | US news

10:30
Sale of Trump Hotel in Washington Close-report
The family company of former president Donald Trump is close to selling his luxury Washington, DC hotel for more than $370m, reports the Wall Street Journal.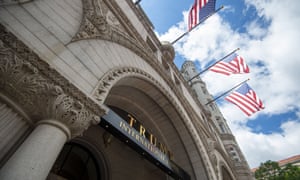 CGI Merchant Group, a Miami-based investment firm, is in talks to acquire the lease on the hotel, these people said. The Trump International Hotel Washington, D.C., is located in the former Old Post Office, a short walk down Pennsylvania Avenue from the White House in a building featuring some of the largest guest rooms in the capital…

…The lease deal could ultimately fetch closer to $400 million, which would represent roughly a doubling of the money the Trump Organization spent to convert the government building into a luxury hotel, said one of the people familiar with the matter.
The sale corresponds with ongoing investigations from House committees about potential conflicts of interest and finance issues involving Trump.
The House Committee on Oversight and Reform has been examining the lease terms between the Trump Organization and the federal government's General Services Administration for use of the Old Post Office. The deal predates Mr. Trump's entry into national politics, but the committee is probing how well Mr. Trump managed conflicts of interest while president.

A Friday report from the House committee said the hotel lost more than $70 million between its opening in 2016 and last year, leading the company to inject at least $24 million in aid.

The Trumps have disputed those findings, though their government filings show a slowdown in business. The hotel generated about $150 million in revenue over four years, according to Mr. Trump's financial disclosures while president. His most recent disclosure, which covered all of 2020 and the first few weeks of 2021, showed the hotel's revenue fell to $15 million, compared with $40 million in 2019.
Read the rest of the story here (paywall).

10:11
Jury selection for the trial of Lev Parnas, the Ukrainian businessman closely associated with Rudy Giuliani and Donald Trump, will begin today, a case that could provide insight into campaign finance operations including during the failed re-election bid of former president Donald Trump.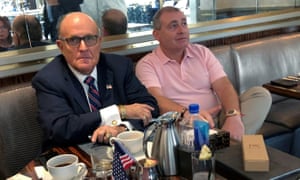 Parnas is accused of concealing an illegal $325,000 donation in support of Trump's re-election bid. Parnas has also been charged with using donations to US politicians to get recreational marijuana distribution licenses, reports Reuters.
Parnas has pleaded not guilty to all charges, including campaign finance crimes.
Two years ago, Parnas was arrested in a Washington airport while boarding a flight to Vienna. Their arrest took place during the investigation and inevitable impeachment of Trump.
Trump, Giuliani, and other politicians will likely be mentioned in the trial. Jurors will face questions on whether their political biases could impact their ability to make a fair judgment.
The trial against Parnas is separate from a federal investigation into Giuliani's activity in Ukraine and whether Giuliani violated lobbying laws while working as a lawyer for Trump.

09:51
Pelosi writes to Democrats about Build Back Better
House Speaker Nancy Pelosi showed her hand last night on what she thinks is the best way forward in agreeing a compromise among Democrats to get Joe Biden's $3.5tr Build Back Better social and environmental policy legislation passed with a lower price tag.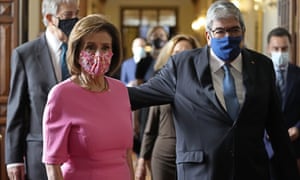 As the most conservative Democrats in the Senate, Joe Manchin of West Virginia and Kyrsten Sinema of Arizona, are holding up the deal – and at this point Biden's whole legislative agenda – by insisting on a very much smaller package, time is ticking and Democratic leaders (and voters) are becoming frustrated.
This despite the US president's insistence that "we're going to get it done", in passing both a version of the $3.5tr bill and the bipartisan $1tr infrastructure bill this month.
Now Pelosi has written a "Dear colleagues" letter to her Democratic fellows on Capitol Hill.
It says: "In order to pass both the Build Back Better Act and the Bipartisan Infrastructure Bill on time, it is essential that difficult decisions must be made very soon.
"Overwhelmingly, the guidance I am receiving from Members is to do fewer things well so that we can still have a transformative impact on families in the workplace and responsibly address the climate crisis: a Build Back Better agenda for jobs and the planet For The Children!
"At the same time, we must lift the debt ceiling and hope that we can have a unanimous Democratic vote and perhaps a bipartisan vote to do so."
Democrats remained deeply at odds over the scale and structure of the more expansive package which contains a host of progressive priorities, provisions to expand healthcare access, establish paid leave, combat climate change and reduce poverty – all underwritten by tax increases on wealthy Americans and corporations.
The Democrats are trying to score a major legislative victory with razor-thin majorities in both chambers of congress. Failure would deny Biden much of his domestic agenda, leaving the party with little to show for their time controlling the White House, the Senate and House, as my colleague Lauren Gambino wrote earlier this month. You can read her full story here.
Updated


09:35
Today, the House of Representatives is returning from its recess a week early to approve a Senate-passed bill that would temporarily raise the debt limit.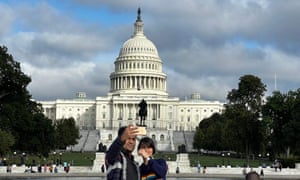 Democrats, currently in control of the House, are expected to raise the borrowing limit to $28.9tn, a $480bn increase to avoid a government shutdown, though another debt limit increase will be needed on 3 December, when funding for most federal programs expires under a stopgap budget that was passed early this month.
Today's expected vote comes after the Senate's partisan vote last week, with many Republicans voting to oppose increasing the spending cap. The Democrat-controlled Senate managed to pass the temporary spending increase last Thursday with the help of 11 Republicans, including Republican senate leader Mitch McConnell of Kentucky, though McConnell has vowed to holdback his support for an additional extension in December.
The House will meet at 3pm (ET) and votes on the bill are expected no earlier than 5pm (ET).
Updated


09:10
House returns for vote on debt while anxiety grows over delays in Biden agenda
Hello, US live blog readers, it's a big day on Capitol Hill as the House returns early from recess to vote on the temporary rise to the debt limit agreed in frenzied scenes in the Senate late last week.
Here's what to expect today:
The House of Representatives is returning a week early from its recess today in order to vote on the deal approved in the Senate last Friday to extend the government's borrowing authority into December.
Concerns are growing at the slow pace of Biden's Congress to pass his flagship bills on infrastructure ($1tn), social benefits and climate change ($3.5tn) and other major themes concerning voting rights and police reform.
House Speaker Nancy Pelosi wrote to her Democratic colleagues last night saying that she was in favor of funding fewer programs well rather than more programs more thinly, if (ie when) the flagship $3.5tn finance bill now being fiercely debated is trimmed down.
Lev Parnas, the Ukrainian businessman who associated closely with Rudy Giuliani and Donald Trump, stands trial today in New York, accused of campaign finance crimes.