Egbo Performing Miracles In Europe, Team Coached By Ex-Eagles Star Close To UCL Qualification:: All Nigeria Soccer
Egbo Performing Miracles In Europe, Team Coached By Ex-Eagles Star Close To UCL Qualification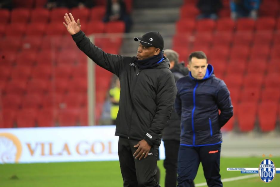 KF Tirana, coached by ex-Nigeria international goalkeeper Ndubuisi Egbo, are close to winning the Albanian Superliga title and qualifying for next season's UEFA Champions League (qualifying phase).
With eight games to the end of the season, KF Tirana have accumulated 59 points, nine more than second-placed Kukesi, meaning they need sixteen more points to win the league, assuming their closest challengers do not drop points in their remaining fixtures.
KF Tirana higher-ups dismissed the former head coach following a poor run of results and appointed Egbo, the then goalkeeper coach, to take over the reins in December and the Nigerian has performed miracles, with the team winning an incredible fifteen matches from a possible sixteen in all competitions.
"First of all, everything begins with God because He gives the grace, He's my motivating factor and inspiration, He chose me to do this job to bring glory to His name," Egbo told allnigeriasoccer.com.
"Tirana were in eighth position out of ten teams when I took over in December, they sacked the coaches that started the season, I was the goalkeeper coach then.
"The players were completely knocked out psychologically and physically when I took over. With my staff, we put them in their ways, we started winning, we have played 16 games – won fifteen and drew one.
"Regarding qualifying for the Champions League, we are taking our games one after the other, win one and continue with the others.
"I don't like doing mathematical permutations, every game is like a final to our team, that's what I told my players."
When asked to share his thoughts on the Super Eagles goalkeeping department, Egbo advised manager Gernot Rohr and Alloy Agu to stick with one goalkeeper.
"I have seen some recent Super Eagles games. Goalkeepers are not like football players, give one an opportunity and start using him, just like they did with Enyeama, for me  the best goalkeeper Nigeria has produced.
"Akpeyi is a good goalkeeper, Nigeria sometimes don't have patience, we need to have confidence in our goalkeepers, we should not crucify them when they make mistakes because they are human beings.
"A striker can score one goal from 20 chances and become a hero while a goalkeeper can make 19 saves and concede a goal and he becomes a villain," Egbo concluded.
A member of the Super Eagles squads to the 2000 and 2002 Africa Cup of Nations, Egbo turned out for NITEL Vasco Enugu, NEPA, Julius Berger, El-Masry, Moroka Swallows, Tirana, El-Masry and Bylis before hanging up his boots.
Ifeanyi Emmanuel
Copyright ANS
All rights reserved. This material, and other
digital content on this website, may not be reproduced, published,
rewritten or redistributed in whole or in part without prior express
written permission from allnigeriasoccer.com