Covid live news: Chinese city puts 1.3 million in strict lockdown over three asymptomatic cases | World news
21:59
Hong Kong expands vaccine bubble
Updated

21:40
The number of new infections in Tokyo and other parts of Japan has edged up in recent days, although the numbers pale beside those being reported in the US, Britain and parts of Europe.
They are also lower than those that have previously prompted the government to call states of emergency that include restrictions on restaurant and bar opening hours.
There is concern, however, over a sharp rise in cases in Okinawa, home to more than half the 47,000 US troops in Japan. The prefecture's government reported 130 new cases on Monday, the first time they had exceeded 100 since late September, the Kyodo news agency said.
Local officials attributed the rise in cases among the civilian community to recent outbreaks at US military bases, according to Kyodo, including a record 235 new cases among American servicemen and women reported on New Year's Day.
US military forces on the island have been criticised for sharing only patchy information about the outbreaks, while residents have complained that unmasked troops are still leaving their bases and mingling with local people.
The Okinawa governor, Denny Tamaki, blamed the US military for allowing the Omicron variant to spill over into the civilian population.
I am outraged because the sharp increase in the number of infections among US military personnel suggests that their management is insufficient," Tamaki told reporters at the weekend.
21:39
Tokyo has reported more than 100 new cases of Covid-19 for the first time in almost three months, while the governor of the southern Japanese island of Okinawa has blasted the US military for failing to contain a recent outbreak that has since spread to the civilian community.
Tokyo confirmed 103 new infections on Monday – up from 84 the previous day – amid concern that the highly transmissible Omicron variant is fuelling a rebound in cases in the Japanese capital. After infections soared to over 5,000 a day in the summer, new cases had stayed below 100 since 9 October.
The city's governor, Yuriko Koike said 25 people had been confirmed to be infected with the Omicron strain, including 11 who had no recent history of overseas travel.
Japan imposed strict border control measures late last year after Omicron was first identified in South Africa.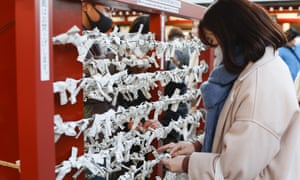 20:19
Thousands of US schools delay opening