Coronavirus live: UK sees daily cases rise to over 50,000; WHO warns indoor socialising driving infections | World news

18:30
WHO says up to 180,000 health workers may have died from Covid

13:40
French new coronavirus cases jump nearly 20% week-on-week

12:51
For the past several weeks, many western European countries have been eyeing Covid case numbers across the Channel with mounting trepidation.
"Why does Britain have more than 40,000 Covid cases a day, and why is it the European country with the most infections?" asked Spain's ABC, while France's L'Express criticised "disastrous myopia" in London.
"Fear returns to London," said Italy's Corriere della Sera after the British health secretary, Sajid Javid, suggested cases could hit 100,000 a day over the winter. "How many deaths are [the British] willing to tolerate not to renounce their liberty?"
But while infection rates in Britain continue the rapid surge they began in mid-September, western European countries with comparably vaccinated populations are now also seeing case numbers start to pick up, sparking fears of a fresh wave there.
According to OurWorldinData, the UK recorded a rolling seven-day average of 666.5 new cases per million people on Wednesday, compared with 40 in Spain, 44.5 in Italy, 80.2 in France, 146.7 in Germany, 223.3 in the Netherlands and 328.8 in Belgium.

11:56
Indoor socialising driving Covid infection rise – WHO
Updated


11:51
A senior health official in western Canada has made an emotional plea for people to get vaccinated against coronavirus and observe social distancing recommendations, highlighting the grief and frustration felt by health workers in a country where Covid deaths continue despite the availability of vaccines.
Saskatchewan's chief medical officer, Dr Saqib Shahab, was brought to tears during a briefing on Wednesday, as he presented new data showing the continuing pressure on the province's hospitals and intensive care units.
"All the evidence is out there. And it's very distressing to see very young, unvaccinated people ending up in ICU and dying," he said. "To see young lives lost through a vaccine-preventable disease – how can we see this in a country where we've had vaccines available since July?"
Saskatchewan has the highest weekly death rate in Canada – and the situation has become so dire that the province has started transferring patients thousands of kilometres away to Ontario – where active cases are 10 times lower per capita.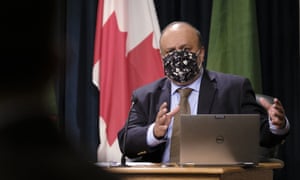 The vast majority of those in ICUs are unvaccinated, according to public health officials.
Tearing up during the teleconference, Shahab said the recent months had been "a very challenging time". He apologised for the show of emotion – but has since been met with widespread support from colleagues and provincial officials.
Updated

(adsbygoogle = window.adsbygoogle || []).push({});