Coronavirus live news: UK records 26,860 more cases and 462 deaths; US sees record 184,000 new daily cases | World news
Just back to Victoria, Australia, momentarily. The premier Daniel Andrews has flagged he will make an announcement on the wearing of masks next Sunday.
That announcement could include allowing individuals who are walking alone to take masks off until they come into contact with others.
That's not for today. We will hopefully have a bit more to say about masks next week.
The German government has released a tongue-in-cheek ad hailing an unlikely hero in the fight against the coronavirus pandemic: the humble couch potato.
AP reports:
The 90-second video posted online Saturday begins with an elderly man recalling his 'service' to the nation back when he was just a young student "in the winter of 2020, when the whole country's eyes were on us."

"I had just turned 22 and was studying engineering," he continues, "when the second wave hit."

With violins stirring at viewers' heart strings, the setting switches to a scene of the narrator as a young man.

"Suddenly the fate of this country lay in our hands," he says. "So we mustered all our courage and did what was expected of us, the only right thing. We did nothing."

"Days and nights we stayed on our backsides at home and fought against the spread of the coronavirus," the narrator continues. "Our couch was the front line and our patience was our weapon."

The ad ends with a government message that "you too can become a hero by staying at home."

Germany imposed fresh restrictions to curb the spread of COVID-19 at the start of November, shutting restaurants, bars and gyms, and setting limits on the number of people who can meet in public and private settings.
Greg Hunt also repeated the federal government's call for all Australian states and territories to open their borders by Christmas.
What we do want to see is the borders open overwhelmingly by Christmas, we'd like to see all of them open, we know that [Western Australia] has a little bit further to go. But there is no advice from the Commonwealth chief medical officer that any state or territory should be closed to any other state or territory.
Updated

Australia's federal health minister Greg Hunt has just spoken in Canberra. He was asked about Australia's efforts to return stranded citizens from abroad.
He says Australia is exploring "green lanes" with other nations, an arrangement already in place with New Zealand. Green lanes are agreements that allow travel without quarantine.
Hunt:
We have the green lane with New Zealand and there's the potential for other green lanes for countries where the medical advice is that they are considered overwhelmingly safe for bringing people to Australia without quarantine. That is something that will be used cautiously and carefully.
He said Australia was working to begin to return international students also. But he said that would not be done in a way that displaces returning citizens.
The prime minister has been absolutely clear that he would not detract from the ability to bring Australians home.
The Victorian premier Daniel Andrews is speaking about the state's continued success at containing Covid-19.
Andrews says Victoria has now recorded 16 days without a new case. That's a remarkable turnaround for the state, easily the worst hit jurisdiction in Australia.
Andrews:
Since yesterday, that 16 days with no new cases in our state. We have now received results from 3,398,653 tests since the beginning of the pandemic. That's 8323 tests since yesterday. I want to thank those 8300 people are going and getting tested the day before. Getting tested is the critical thing. That allows us to have a complete picture, or at least the most complete picture of where this virus is, and to put a public health response around your family and then protect every family across the state, so we are very grateful and we say thank you to each and every one of those people. If there is one thing that people take away from the current positive news the notion of more than a fortnight now with no extra cases, the biggest and most important take to every single Victorian is, if you have symptoms, even the mildest symptoms, please go and get tested and get tested quickly.
Hi everyone,
It's Christopher Knaus here, I'll be live blogging the latest Covid-19 developments for the next little while.
Just staying with Australia, for the moment.
A key problem facing the nation is the repatriation of stranded Australians abroad. The education minister has just made an announcement about a related issue: how to return international university students to the nation.
Education minister Dan Tehan has instructed states and territories to draw up plans for the return of international students, while staying within their quarantine caps.
Tehan spoke to Sky News a little earlier:
Our priority is returning Australians and that will continue to be the case especially in the lead up to Christmas

But we have asked state and territory governments to submit plans to us as to how they can bring in international students back.
The loss of international students has crippled Australia's university sector, which is estimated to have lost up to 12,000 jobs.
Updated

Hello everyone, I am off now. My colleague Christopher Knaus will be taking over the blog, so best to direct any tips his way.
New South Wales contact tracers rush to track Kiwi travellers
From Australian Associated Press:

New South Wales contact tracers are racing to reach 455 travellers to Australia from New Zealand after a positive case was confirmed in Auckland.
Those who have arrived in NSW from New Zealand since 5 November have been sent a message with NSW Health advice and are being contacted and alerted about a number of venues of concern in Auckland.
NSW Health said in a statement no passengers arriving in Sydney from New Zealand on Friday evening reported having visited the locations and none had symptoms.
"Airlines will ascertain if passengers have attended these venues before they leave New Zealand and if they have, they will be not allowed to travel," the department said.
NSW has now gone a week without a locally transmitted virus case but health authorities are still urging the community to keep getting tested.
NSW will reopen its border with Victoria on 23 November. The southern state has recorded more than two weeks of consecutive zero-transmission days.
Updated

Australian state of Victoria records no cases and no deaths for 16th day
For the 16th straight day in a row, Victoria is reporting a "donut day" – that is, a day with no coronavirus cases or deaths.
It comes after the state tested 8,323 people.
Victoria's death toll from the virus remains at 819, while the total number of deaths from Covid in Australia is 907.
Victoria has just three active cases of Covid.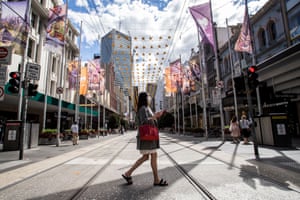 On Sunday, Allan Cheng, the deputy chief health officer, described the stretch of zero-case days as "about as good as it can get" but warned "there may still be the potential for hidden trains of transmission out there".
"And then obviously the potential for an incursion of cases from outside, from New Zealand or NSW."
The state government is pushing for more testing in Hume and Wyndham.
Covid restriction in Victoria are set to ease further next Sunday, when contact sport will resume across the board, 50 people will be allowed to attend outdoor public gatherings, 10 people will be allowed to visit homes, and 100 people will be able to attend wedding and funerals.
The border to South Australia will reopen on 1 December and to NSW on 23 November.
Guardian Australia staff and Australian Associated Press

Updated

French police broke up a house party that was attended by at least 300 people outside Paris on Saturday, describing the event as being "in total disdain for health rules".
Daily newspaper Le Parisien said police had to throw special grenades as intermediate weapons to break up the gathering in Joinville-le-Pont and escape.
Authorities appealed to everyone who went to get tested quickly, as it emerged that at least one person at the party was infected with coronavirus.
France is in the grips of a second lockdown, with hospitals having to delay some operations to tend to Covid patients because they are so stretched.
Updated