'Akpoguma, Okoye Again' – Super Eagles Fans Cannot Believe What Rohr Has Done Vs Sierra Leone:: All Nigeria Soccer
'Akpoguma, Okoye Again' – Super Eagles Fans Cannot Believe What Rohr Has Done Vs Sierra Leone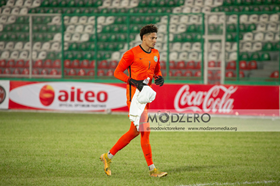 Super Eagles manager Gernot Rohr has made two changes to the starting lineup from the team that played out a dramatic 4-4 draw with Sierra Leone at the Samuel Ogbemudia Stadium on Friday, November 13.
Fulham's Ola Aina and Leicester City's Kelechi Iheanacho come in for Zaidu Sanusi and Victor Osimhen at left-back and center forward respectively.
Rohr's decision to retain rookie goalkeeper Maduka Okoye and Hoffenheim's Kevin Akpoguma in the starting lineup despite their dismal performance last Friday is ruffling a few feathers among the Super Eagles fanbase.
On his competitive debut, Okoye was culpable for at least two of the four goals conceded by the national team due to his inability to deal with crosses whipped into the box while Akpoguma was very poor playing in his least favored position on the right of defence.
Here's what Super Eagles fans are saying on Twitter about Okoye and Akpoguma being handed starts :
@sir_opeyemi : "I can't believe that Okoye is still the shot stopper for  today's match. Well, I hope the @SLFA_slteam won't domesticate the Eagles like local fowls at the end of 90 minutes".
@seunoluwabi : "Hahaha! You are right. He is starting Akpoguna and Okoye. That man is just stubborn in the wrong things. He needs to go really."
@woramangra : "Akpoguma, Okoye AGAIN???!!!Rohr never listens.That you didn't play well as a RB when you r known to be used as CB at club level means u ain't ready to start. Awaziem plays well as a RB n as a CB".
@PopoolaCaleb : "Okoye need to be drop. Akpeyi is on the bench fa".
@ogunmilorokenny : "Super Eagles lineup today. Same starting lineup in d 1st leg except for Aina&Iheanacho that are starting. I just pray they play&win well, or else Rohr go explain why Musa must start crucial games,why Akpoguma must start RB,why Okoye must b trusted again aftet chopping 4".
@Its_superdave : "Okoye, Akpoguma & Musa all again. Nawa. Nothing really special about the first two IMO. Not exceptional with all the hype".
@schororj : "Must the German-Nigerians start? Okoye and Akooguma should be watching from the sidelines. As for Musa…. I give up. Rohr is clueless."
@pahpies : "Okoye again!!!!!!We no dey learn……Sudan beat Ghana with Ayew and co all playing, it tells you that nobody be mumu again for African football".
@alexanderejiofo :
"We can as well just forfeit the match.How can a serious country be starting players like Musa, Okoye and Akpoguma in a competitive match??"
@YinkaTinuade : "I hope Okoye improves with crosses and I hope we'll have leaders across the pack today! Show us you're vexing, beat them 6-0".
@manlikefisco : "Okoye starting again. It is well. @omaakatugba If your keeper doesn't put up a good performance, I would come for you again on this bird app."
@Esoninja : "Starting okoye again?".
@Original_fEMi : "My own is why is he playing this Akpoguma guy again today n even Okoye.. Insanity is doing the same thing and expecting a different result.."
@jarex2_official : "Whoever did the PR for the GK, Okoye did a very good job."
Ifeanyi Emmanuel
Copyright ANS
All rights reserved. This material,
and other digital content on this website, may not be reproduced,
published, rewritten or redistributed in whole or in part without prior
express written permission from allnigeriasoccer.com
(adsbygoogle = window.adsbygoogle || []).push({});