Will Messi Really Leave Barcelona?:: All Nigeria Soccer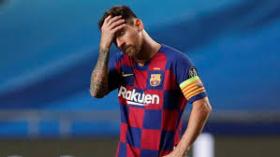 Lionel Messi has spent his whole professional football career in Barcelona, first joining the club as a 14-year-old; the Argentine's extraordinary exploits have seen him quickly become an honorary Catalan.Messi has helped the club to 10 La Liga titles and four UEFA Champions Leagues, collecting a record six Ballon d'Or trophies for his performances along the way.
His affinity for FC Barcelona is evident in his near lifelong commitment to the Catalan giants. Still, it seems that love is on the decline, appearing closer to the exit than ever before which would be welcomed news for their fierce rivals Real Madrid.
Is Lionel Messi going to leave Barcelona?
While it is not certain that Messi will leave FC Barcelona, his lawyers have sent a fax to the Spanish club outlining his desire to depart.
That alone suggests that a Messi exit is now more likely than ever, particularly with his current contract at Barcelona set to expire in the summer of 2021.
Back in July, it was understood by Goal! that Lionel Messi did not want to leave FC Barcelona, but it'd true that the Argentine has previously spoken of potentially joining another team.
Why does Lionel Messi want to leave Barcelona?
Messi is expected to announce some of his reasons for requesting a transfer away from FC Barcelona in the next few days to provide some much-needed clarity to his supporters.
However, the issues that have increased the possibility of this exit are known and have been reported already.
It is well-known that his main complaints are in regards to off-field machinations at Barcelona, which, he feels, are affecting the on-field performances of the team.
The dismissal of Valverde as head coach in January 2020, for example, was not a structural move that Messi was too happy about, and he openly expressed his disappointment at the decision.
Even before Ernesto Valverde's sacking, Messi questioned whether the Bartomeu-led Barcelona board had done enough to bring Neymar – a player Messi enjoyed playing with – back to the Camp Nou.
Then, when confirming the players' 70% pay cut during the Coivd-19 lockdown in March 2020, Messi directed a dig at figures within the club "who tried to put players under intense pressure to do something that we always knew that we would do."
Which clubs could Lionel Messi sign for?
Given his title as one of the best footballers who has ever graced the pitch, Messi would have no lack of options if he ever did decide to part ways with Barcelona.
He has notably been linked for a reunion with former manager Pep Guardiola at Manchester City, with odds of 4/7 on most bookmakers markets, including the William Hill App for Android.
Those links have been made considering recent rumblings; however, Guardiola has played down the suggestion that Lionel Messi could soon grace the Etihad, expressing his wish for the Argentine to remain at Barcelona.
Paris Saint-Germain has been named as a real possibility based on the French side's financial clout, not to mention that Neymar – a player Messi admires – plays there.
A return to Argentina is not out the realm of possibility; Messi's boyhood club Newell's Old Boys are indeed in the equation should he return to his homeland, while the likes of giants Boca Juniors and River Plate could be attractive to Messi.
Having previously gone "all-out" to lure Messi to the San Siro in 2008, recent reports prompted the head of Pirelli – Inter Milan's chief shirt sponsor – to suggest that his company could assist Inter to finance a move.
The idea of Pirelli contributing had precedent in Fiat's assistance to Juventus when Ronaldo joined the club from the Bernabeu in the summer of 2018.
Manchester United is another rumored destination, with reports in Argentina in July suggesting that United were readying a €120 million part-exchange offer to win Messi's services.
This notion of United making a move for Lionel Messi was resurrected, resulting from the recent revelations and that the Red Devils would not let their rivals get Messi without a fight.
In honesty, any club in the world would be interested in signing Messi, but if he does leave Barcelona, whoever does land him will need deep pockets.
Igho Kingsley