'Tomori Should Gist Saka How It Went' – Nigerians React To Arsenal Winger's First England Call-up:: All Nigeria Soccer
'Tomori Should Gist Saka How It Went' – Nigerians React To Arsenal Winger's First England Call-up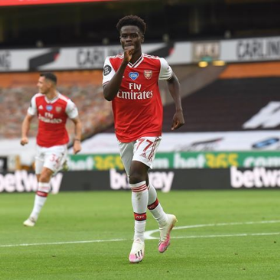 England boss Gareth Southgate has announced a 30-player roster for upcoming international friendlies against Wales, Belgium and Denmark.
Nigerians received bad news on the day they are celebrating Independence from Britain, with Arsenal winger Bukayo Saka receiving his first senior England call-up.
The England U21 international has been openly courted by the Nigeria Football Federation to switch his international allegiance from his country of birth, England to Nigeria, where his parents originally hail from.
Should Saka feature in any of the UEFA Nations League matches against Belgium or Denmark, he will become cap-tied to the Three Lions.
Here's what Nigerians are saying about Saka's decision to choose England over Nigeria on Twitter :
@Maitre_Dapo : "Saka is gone, Ebere Eze next"
@michaellbajo : "People are trying call names like John fashanu and the rest in the bid to make saka play for Nigeria. What a mess, it's not like Nigeria really treats their legends or even current footballers any better…".
@ajifolajifaola7 : "Bukayo Saka doesn't know we have better chances of winning trophies than England".
@quietparrott : "Inside life.. Saka rejecting us."
@jerryjok : "Feels like a really easy decison for Saka and that's  what hurts cos both  parents are Nigerian not like some others who have them mixed".
@Yung_joe101 : "Saka can't get a chance in the midfield that have Ward-Prowse and Harry Winks".
@Ajibel : "So Bukayo Saka will no longer be eligible to play for Nigeria."
@jerryjok : "Tbh I'm  not even saying saka should come and play for us but at least acknowledge your roots! Usman, Adesanya and Joshua don't  fight for us but they always acknowledge that background with so much pride".
@chukwumarr : "So Bukayo Saka won't play for Nigeria".
@jeremy_liit : "Good luck to Bukayo Saka. Nigeria is absolutely loaded on the wings. Need Ejuke to seal that spot once and for all
@iam_elonel : "Today of all days..you hijacked our golden boy Bukayo Saka on our Independence day."
@yomslim : "You took Fikayo Tomori and dumped him so fast,Tammy Abraham is only making up the numbers.does England really need Saka when you have Sancho and Raheem.i wish him though".
@communeamos : "So England waited till today #October1st Nigeria's Independence Day to call Arsenal's Bukayo Saka to their National Team. We wish him the best".
@ayodejijaks : "Somebody please tell saka to not fall for this trap"
@kenochonogor : "BUKAYO SAKA: Why Cry Over His England Call-up?Is he talented? YES Has England invested and developed him? YES Do we have players his age who are better talented in Nigeria? YES. Have we invested and developed those players in Nigeria? NO. Should charity start from abroad? NO"
Loba_Joseph : "Tomori should gist Bukayo Saka how it went with him, he didn't even play 90min for them".
@ChumaNnoli : "John Fashanu, Gabby Agbonlahor and Carlton Cole are all examples of players who played for England instead of Nigeria but turned out having only a handful of caps for the three Lions with no major impact.
@LANREWAJU_ : "I swear. I just pray they don't do Saka dirty like the have done other Nigerian that decided to play for England."
@SheunAdeola : "I really pray Bukayo Saka doesn't go the way of Jordon Ibe, John Fashanu, Gabriel Agbolahor, Nedum Onuoha and co."
@Hezee1 : "If Saka end up choosing England it's over for him as per national career".
@seyikuforiji3 : "So u want Nigeria to eat from where they did not sow? Hope u know that what SAKA is now was made possible by the good structure provided by England. Nigeria never contribute a dine to his growth"
Ifeanyi Emmanuel
Photo Credit : arsenal.com
Copyright ANS
All rights reserved. This material,
and other digital content on this website, may not be reproduced,
published, rewritten or redistributed in whole or in part without prior
express written permission from allnigeriasoccer.com