Russia-Ukraine war live: Russian lines breached with capture of two eastern villages, Ukraine commander says | Ukraine
Ukraine has retaken key village near Bakhmut, says Zelenskiy
The Ukrainian president says his forces have recaptured the strategically important village of Klishchiivka on the southern flank of the key frontline city of Bakhmut.
"Today I would like to particularly commend the soldiers who, step by step, are returning to Ukraine what belongs to it, namely in the area of Bakhmut," Volodymyr Zelenskiy said in his nightly video address on Sunday.
The deputy defence minister, Hanna Maliar, shared a video of Ukrainian forces displaying flags including the blue and yellow national flag, with ruined buildings and the sound of ongoing fighting in the background. Russia was still trying to regain lost positions despite Klishchiivka's liberation, she said on Telegram.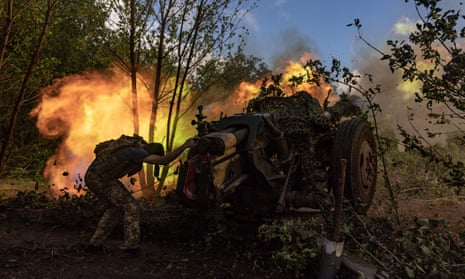 Col Gen Oleksandr Syrskyi, commander of Ukraine's ground forces, also confirmed the recapture of the village, which Russia claimed control of in January and is about 9km (six miles) south of Bakhmut, the city taken by Russia in May after months of heavy fighting.
Ilia Yevlash, a spokesperson for Ukrainian troops in the east, said the battle inflicted "powerful damage" on Russian forces.
Read the full story here:
Key events
China's top diplomat on Monday began several days of security consultations with Russian officials (see earlier post at 06.31).
Foreign minister Wang Yi, who simultaneously holds the ruling Communist party's top foreign policy post, will be in Russia through to Thursday for strategic security consultations, the foreign ministry said in a brief statement.
Wang opened his talks with Russian foreign minister Sergei Lavrov by hailing "strategic cooperation" between the two countries and their shared commitment to a "multipolar world" and a "more just world order".
In comments quoted by the Associated Press, Wang said:
China and Russia, as leading global powers and permanent members of the UN security council, bear special responsibility for maintaining global strategic stability and global development.

The more violent the unilateral actions of hegemony and bloc confrontation become, the more important for us to keep up with the times, show a sense of duty as great powers, and further fulfil our international obligations.
Brazil's president, Luiz Inácio Lula da Silva, will meet his Ukrainian counterpart, Volodymyr Zelenskiy, in New York on Wednesday, two sources from the Brazilian government said on Monday.
Lula has irked some western leaders who support Ukraine's fight against Russia with his refusal to take a clear side in the war.
Lula has attempted to position himself as a potential peace broker between Moscow and Kyiv, arguing some countries must remain "neutral" if peace is to be achieved.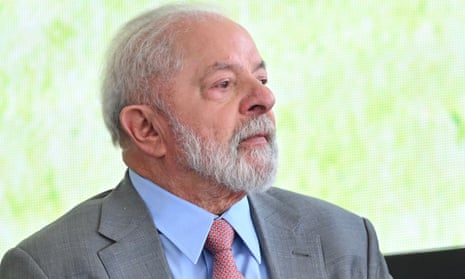 Russia's central bank said on Monday it expected annual inflation to continue to rise in the coming months, Reuters reports.
The bank said inflation was being fuelled by the weakness of the rouble and by growth in domestic demand outstripping supply.
It expects annual inflation to be 6.0–7.0% in 2023, before returning to its 4% target in 2024 and remaining close to that level.
The rouble has had a period of turbulence since Russia invaded Ukraine in February 2022, dropping to a record low of 150 to the dollar two weeks after the start of the war before sharply recovering after the central bank imposed strict capital controls that limited the flow of money out of the country.
Ukraine breached Russian lines by taking two eastern villages – commander
The commander of Ukrainian ground forces said the recent recapture of the eastern villages of Andriivka and Klishchiivka had enabled Kyiv's troops to breach Russian lines near the devastated city of Bakhmut (see earlier post at 06.07).
"These settlements, at first glance small, were important elements in the enemy's defensive line which stretched from Bakhmut to Horlivka," Gen Oleksandr Syrskyi said on Telegram, referring to a town about 40km (25 miles) from Bakhmut.
"As a result of our troops' successful actions, the enemy's defensive line – which it tried to close by throwing all available reserves into battle – was breached."
Syrskyi said Russian troops were still trying to regain the positions they had lost in the Bakhmut sector, and that fighting there was heavy. His claims are yet to be independently verified.
Ukrainian forces have been conducting offensives north and south of Bakhmut for several months in order to dislodge Russian units.
Ukraine military analysts said this week the liberation of settlements near Bakhmut would allow the military to advance from the southern flank in the area, gaining control of the heights.
Pope Francis welcomed Russia's new ambassador to the Vatican on Monday and the envoy said the pontiff told him he was determined to forge ahead with his peace and humanitarian initiatives for Ukraine.
The envoy, Ivan Soltanovsky, said Francis also told him he wanted another meeting with Patriarch Kirill, the head of the Russian Orthodox Church, who has strongly supported Vladimir Putin's invasion of Ukraine.
Soltanovsky, a 68-year-old career diplomat, presented his credentials to Francis at the Vatican, succeeding Alexander Avdeev, who was ambassador when Russia invaded Ukraine last year, Reuters reports.
Russia summons French ambassador in protest at exclusion of journalists from Macron briefing
The Russian foreign ministry said it summoned French ambassador Pierre Levy on Monday to protest over what it called the "discriminatory and openly Russophobic" actions of French authorities against Russian journalists at the recent G20 summit in New Delhi.
It said reporters of RIA Novosti and the editor-in-chief of Russia-News were "rudely denied" access to the press conference of France's president, Emmanuel Macron, according to Reuters.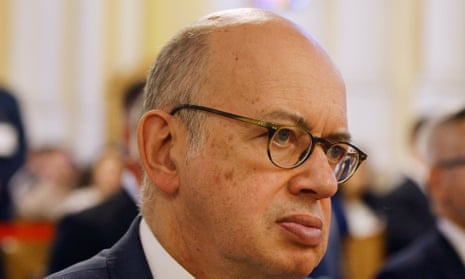 The EU is gearing up for a fight over what should be included in its 12th package of sanctions over Russia's war in Ukraine, Bloomberg News reported on Monday.
The new measures, which could be presented as early as next month, would probably include the EU's version of the upcoming G7 ban on purchases of Russian diamonds and possibly a long-awaited proposal to use the profits generated by frozen central bank assets to aid Kyiv, the report added, citing people familiar with discussions.
Western governments have imposed sweeping economic sanctions, including Russian oil import bans, on Moscow for its invasion of Ukraine in February last year.
Tass reports that Russian security forces claim to have arrested two men belonging to the Freedom of Russia Legion that were planning to attack an administrative building in Rostov.
Citing the FSB, Tass writes that "during a search, four molotov cocktail bottles, filled out forms of contracts for service in the armed forces of Ukraine, as well as questionnaires and handwritten statements with an anti-Russian position" were found.
Ukraine's foreign minister, Dmytro Kuleba, has used social media to reiterate that Ukraine's position is that Russian president Vladimir Putin poses a threat beyond its borders. He posted:
Putin's Russia is a threat to everyone, not just Ukraine. Regardless of geographical distance. Its hybrid warfare arsenal includes election meddling, hacking, bribery, blackmail, sabotage, coups, assassinations, and other tools. We must defeat Russia now, while it is weak.
Russia scrambled a MiG-31 jet fighter on Monday to intercept a US Navy P-8A Poseidon patrol plane approaching its airspace over the Barents Sea, the Russian defence ministry said, according to Reuters.
The Moscow-installed governor of the Russian-held part of Ukraine's Donetsk region, Denis Pushilin, has confirmed the reported blast at the local government headquarters, but said that no one had been killed or injured.
Russia fired cruise missiles at mock targets in the seas separating it from Alaska on Monday, in what it said was an exercise to protect its northern shipping route in the Arctic, Reuters reports.
The defence ministry said Vulcan, Granit and Onyx cruise missiles were fired over distances of hundreds of kilometres to strike targets simulating enemy ships in the Bering Sea.
The exercise involved land, ship and submarine-launched missiles and included about 10,000 military personnel, as well as planes and helicopters, the ministry said.
The drills took place on Russia's Chukotka peninsula and in the Chukchi and Bering Seas, and were supervised by admiral Nikolai Yevmenov, commander-in-chief of the Russian navy.
Blasts heard at government headquarters in Russian-held Donetsk – reports
The Russian state news agency RIA reported on Monday that a series of blasts had been heard at the headquarters of the Russian-installed local authorities in the Russian-held city of Donetsk, in east Ukraine.
The city's Russian-installed mayor said in a statement on Telegram that central Donetsk was under fire, Reuters reports. These claims are yet to be independently verified.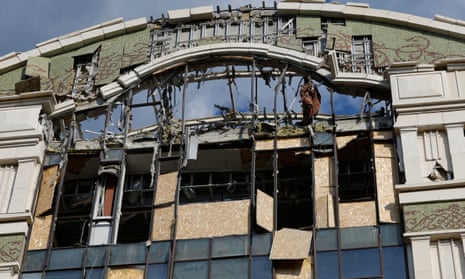 Georgia accuses Ukrainian official of plotting coup
Georgia on Monday accused a senior Ukrainian official of plotting to overthrow the Black Sea nation's government by organising mass unrest.
AFP reports:
Georgia has been accused of cooperating with the Kremlin even though Russian forces have deployed to separatist regions of Abkhazia and South Ossetia since 2008, when Moscow invaded the tiny Caucasus country.

Georgian security services said the deputy chief of Ukraine's military counterintelligence and Georgia's former deputy interior minister, Giorgi Lortkipanidze, was plotting "destabilisation aimed at a violent overthrow of the government."

It said Georgians fighting Russian forces in Ukraine, including a bodyguard of Georgia's jailed ex-president Mikhail Saakashvili, were among the conspirators being trained near Ukraine's border with Poland.

Ukraine has repeatedly called for Georgia to release Saakashvili, who is now a Ukrainian national and a top adviser to Ukrainian President Volodymyr Zelenskiy.

Kyiv has said that the Georgian authorities are "killing" the ailing politician on Kremlin orders and has demanded his transfer to a clinic abroad.

Georgia in turn has condemned what it said was "an extreme form of escalation in diplomatic relations."

Georgia's security service said anti-government protests "are being planned for October and December, when the European Commission is set to publish its decision on Georgia's EU membership application."

It said the plot "is being carried out with the coordination and funding from a foreign country."
Western firms that continued to operate in Russia since Moscow's 2022 invasion of Ukraine have generated billions of dollars in profits, but the Kremlin has blocked them from accessing the cash in a bid to turn the screw on "unfriendly" nations, the FT reports.
The FT reports:
Groups from such countries accounted for $18bn of the $20bn in Russian profits that overseas companies reported for 2022 alone, according to figures compiled by the Kyiv School of Economics, and $199bn of their $217bn in Russian gross revenue.

"The figures may have grown considerably since then, although it is not possible to assess exactly how much since most international businesses operating in Russia only disclose their local results annually," said KSE deputy development director Andrii Onopriienko, who compiled the data.
More information has come in about the possible circumstances surrounding the Ukrainian government's dismissal of six deputy defence ministers on Monday (see earlier post at 10:40).
The Ukrainska Pravda news site quoted unnamed government sources as saying all the deputy ministers had resigned voluntarily after a request by Rustem Umerov, Ukraine's newly appointed defence minister, and would not be returning to their posts.
It said consultations were under way on candidates to replace them, and quoted a source close to the ministry as saying "a complete overhaul is under way" at the ministry.
Rights in Russia 'significantly deteriorated' since war in Ukraine – UN expert
People's rights in Russia have substantially worsened since Moscow's invasion of Ukraine last year, a top UN expert said on Monday.
The UN special rapporteur on the rights situation in Russia, Mariana Katzarova, said Moscow had launched a systematic crackdown on critics since its invasion of Ukraine in February 2022.
"The situation of human rights in the Russian Federation has significantly deteriorated since its invasion of Ukraine," Katzarova said in her first report.
The dramatic degradation came after "the situation had already been on a steady decline over the past two decades," she added.
Last April, Katzarovabecame the first monitor appointed by the UN human rights council to examine the rights situation in Russia or any permanent member of the UN security council.
She said Russian authorities had "severely curtailed the freedoms of association, peaceful assembly and expression" and undermined the independence of the judiciary and the guarantees of fair trial.
According to AFP, Katzarova said sanctions were "being applied arbitrarily against dissenters and force used against peaceful protesters". She also decried the "persistent use of torture" and sexual violence.
The report read:
Both the harshness of recent criminal sentences and the number of people sentenced on politically motivated charges has increased.
Katzarova said she had been granted no access to Russia, adding that Moscow tried to "obstruct" her work.
Her findings were based on consultations with more than 60 Russian and international rights groups and individuals, in person, by phone or online, and nearly 100 written submissions.
Ukraine's Danube Shipping Company (DSC) has asked Romania's Constanta Black Sea port to allow ship-to-ship grain transfers which would almost double its barge export capacity, the company said on Monday.
A major grower and exporter, Ukraine's 2023 grain output is seen as up to 56m metric tonnes but a blockade of its major Black Sea ports since Russia's invasion has constrained shipments.
Ukraine's Danube River ports, which previously accounted for around a quarter of grain exports, are now the main route out for the country's harvest, some of which is sent on barges to Constanta for onwards shipment.
DSC said on Telegram that 60% of the grain export flow through Constanta is by river fleet, with barges delivering more than 700,000 tonnes of agricultural products to the Romanian port every month.
However, the company said it currently had about 600 barges at Constanta, with waiting times for unloading in port sometimes stretching to up to 60 days, Reuters reports.
It said:
If Constanta allows the development of …transshipment, the rivermen are ready to increase the volumes by another 500,000 tonnes.
DSC said it had a project to set up three more anchorages near Constanta, one of which should be assigned to Ukraine, and is ready to create a Ukrainian port operator in Constanta.