Nigeria's 2022 WCQ Opponents Cape Verde, CAR, Liberia Profiled; Who Are Their Biggest Stars? :: All Nigeria Soccer
Nigeria's 2022 WCQ Opponents Cape Verde, CAR, Liberia Profiled; Who Are Their Biggest Stars?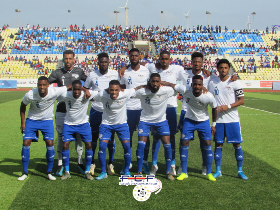 Nigeria will begin their quest to compete in the 2022 World Cup fiesta when the qualifiers begin in October, and there can be reason for optimism after the Super Eagles we're handed a fairly 'easy' draw yesterday.
Cape Verde, Central African Republic and Liberia make up the countries pitted alongside Nigeria, but how well do fans know these teams, their players and what are their obvious biggest strengths and weaknesses?
Allnigeriasoccer.com profiles these opponents thus,
Liberia: Liberia have never qualified for the World Cup since the inception of Liberia's national football team, and thus are not expected to pose much of a nuisance to Nigeria.
Due to the obvious gulf in quality between them and Nigeria, it is expected the Lone Stars will set up in a compact, defensive block aimed at damage limitation when they play the Super Eagles and will more than be thankful holding their opponents to a draw in any of their meetings in this group.
The biggest star on their team, perhaps is striker William Jebor who last played for Fujairah SC in the United Arab Emirates.
Cape Verde: Another team yet to debut at the finals of the world tournament, Cape Verde are poised to be the tricky opponents for Nigeria in this group.
They do have some interesting players on the team, with the likes of Philadelphia Union's Jamiro Gregory, Fenerbahçe's Garry Rodrigues and Porto's Zé Luís just few of their glamorous players.
They beat Togo 2-1 in a friendly encounter and held Cameroun 0-0 in an AFCON qualifier at the tail end of last year, such achievements highlighting their resilience and hard-fighting spirit.
Central African Republic: Les Fauves will be targeting their bow at the biggest football tournament, and are also one of the sides in this group Nigeria will be wary of.
Currently ranked 109th on the FIFA rankings, they are one of the sides moving in the right direction as per improvements in the continent despite difficult competitions.
They have Valencia's Geoffrey Kondogbia, New England's Wilfried Zahibo, Le Havre's Amos Youga, and a host of other exciting names on their rank, so it will be interesting to see how they set up against the Super Eagles who are no doubt, favourites over them.
Emmanuel Chinaza
Photo Credit : fcf.cv