NBA finals Game 5: Miami Heat v Denver Nuggets – live | NBA finals
Key events
First-quarter thoughts
Miami's making better decisions in general. They've missed a lot of good looks.
Denver had a rocky start (ouch, sorry for the geographical pun there), then settled down, then came unglued. The ball movement is better than it was in the first few minutes. The shot selection is not.
Jokić hasn't missed a shot. But he has only taken one. Butler is one for four.
Heat 24-22 Nuggets, end 1st quarter
Jordan swats a shot, and Porter ends up scoring at the other end.
Adebayo battles again and scores. He's got 14 points and six rebounds.
Porter, who leads the Nuggets with seven points and seven boards, misses at the buzzer.
So if you tuned in for a battle between Jokić and Butler, our apologies. If you wanted to see Adebayo vs. Porter, enjoy.
Heat 22-18 Nuggets, 2:14, 1st quarter
Adebayo works against Green, fakes, gets Green in the air, goes up and hits a jumper as he's fouled.
Adebayo has 11 points, hitting five of seven shots. Strus is three for four with a three and a free throw, giving him eight points. Jimmy Butler? None.
After the Denver timeout, Adebayo makes it 12 for himself, 22 for the Heat.
Heat 19-18 Nuggets, 2:40, 1st quarter
Adebayo bucket and the foul. He makes the free throw, and the Heat somehow have the lead again.
Heat 16-18 Nuggets, 3:05, 1st quarter
Strus flings the ball high, high in the air, and Adebayo gets up to slam it home.
At the other end, Strus picks up his second foul.
But Strus stays in and beats the defense down the court for a breakaway layup. He might have been fouled, which means we get the excruciating experience of TV commentators critiquing the refs.
The Nuggets respond, and Adabayo answers with a jumper of his own.
Then … uh oh, guess who has two fouls now. It's Jokić. I don't like that call.
Heat 8-15 Nuggets, 4:55, 1st quarter
If you "Max Strus ends the drought with an out-of-control drive straight at Jokić," congratulations. Count it, and he converts the free throw.
Jokić answers with his first shot of the game. It's a 3. It's good.
Heat 5-12 Nuggets, 5:57, 1st quarter
During the long timeout, I counted 10 straight missed field goals and two missed free throws by Miami since they led 5-0.
Heat 5-12 Nuggets, 5:57, 1st quarter
Butler's first free throw goes clank off the back of the rim. The second one rattles out. The Heat are cold.
A screen in his own front court frees Murray to drive the rest of the way down the court for a dunk that's all too easy.
Another Miami miss, and Porter makes it 10-5.
Another Miami miss, and Porter finds Green cutting to the basket for an emphatic slam.
Heat timeout.
Heat 5-6 Nuggets, 7:14, 1st quarter
Airball, Butler. Airball, Adebayo. But Butler draws a foul, and the Nuggets call timeout.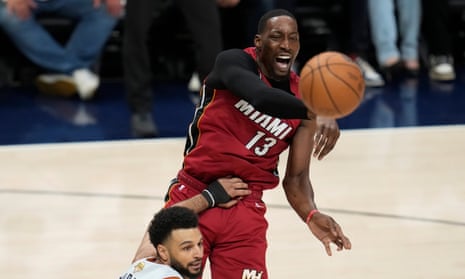 Heat 5-6 Nuggets, 7:14, 1st quarter
Caldwell-Pope scores his and his team's second bucket on an acrobatic jumper from about six feet. The Heat fail to respond, and Gordon gives Denver the lead.
Heat 5-2 Nuggets, 8:45, 1st quarter
Jokić's first moves on offense aren't good. He bangs, bangs, bangs, bangs, bangs and loses the ball.
The Nuggets already have four turnovers. As if trying to make up that gap, Adebayo commits the Heat's first turnover in spectacular fashion, throwing the ball into his own bench, perhaps thinking one of those players was actually on the court.
Caldwell-Pope has the first Denver points.
Heat 5-0 Nuggets, 10:00, 1st quarter
Adebayo announces his presence with authority with a steal and a dunk. Denver goes on to squander the next two possessions as well, and then Strus hits a 3 off an in-bounds play with scant time on the clock.
Starters
Denver: Porter, Murray, Jokić, Gordon, Caldwell-Pope
Miami: Strus, Vincent, Butler, Adebayo, Love
Kind of a pity TV broadcasters break away for ads instead of showing the player intros.
Let's just watch the best player intros ever, shall we?
Colorado hipsters Nathaniel Rateliff and the Night Sweats step to the tipoff circle for an a capella rendition of the national anthem. I'd prefer The Samples, but that wasn't bad at all.
For the record, I'm wearing a T-shirt and cargo shorts.
Jokić should not be confused with Nikola Jović, a reserve power forward for the Heat. Probably not a mistake many people would make. Anyone tuning in from the UK might be interested to know he's one of three active NBA players born in the UK and the only one born outside London. Maybe Leicester will have an NBA championship to console themselves after Premier League relegation.
The Leicester Riders were BBL runners-up this year after winning the last two championships.
Fairly or unfairly, NBA players are judged by their championships more than their peers in other sports.
Simple math tells us why. In baseball, a starting pitcher only plays once every four or five games, and a batter usually comes up to the plate only four or five times per game. In soccer, there's one ball for 22 players spread over about 8,500 square feet. Even a football quarterback is powerless to help his defense and is seriously hindered without a solid offensive line.
In the condensed area of a basketball court, one player can change everything, and a championship changes that player's legacy. The greatest players never to win it all are typically those whose paths were blocked by even greater players. Prime examples: Karl Malone, Patrick Ewing, Charles Barkley and Reggie Miller kept running into Michael Jordan. Barring a Jordan-sized impediment, a player often has to claim a ring to join the pantheon of the greats.
Which is why the person with the most at stake tonight is Denver center Nikola Jokić, the Serbian superstar who won league MVP honors in 2021 and 2022. Hard to believe he was drafted 41st in 2014.
He doesn't necessarily need a win in this series to be included in the conversation of the best NBA players of the century so far. But a win surely removes any doubt.
All this despite being an unassuming man or, as my Guardian colleague Hunter Felt says, a man with "absolutely no swag."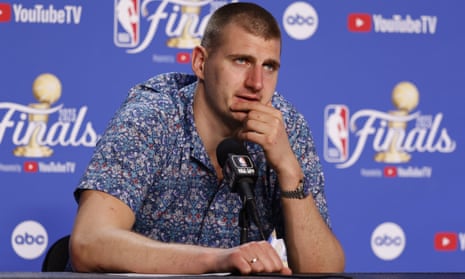 And the plot thickens like the humid Florida air … Tyler Herro has been cleared to play. He, like Jimmy Butler and Bam Adebayo, averaged more than 20 points per game in the regular season.
It's a pity that the Writers Guild of America remains out on strike, because the Miami Heat's compelling story is in desperate need of a Hollywood ending.
After spending the first couple of months of the season struggling to reach the .500 mark, the Heat turned things around by winning four straight on the road in December, including a win in Mexico City credited in part to Jimmy Butler consuming some grasshoppers and tequila. They still barely won the weak Southeast Division and were pushed to the brink of elimination in the play-in tournament.
Since then, they've flirted with and made history.
By beating the top-seeded Milwaukee Bucks, the Heat became the first team in the short history of the play-in tournament to advance in the playoffs after playing their way in.
By beating the New York Knicks, the Heat became the second No. 8 seed to reach the conference finals.
Against Boston, the Heat nearly became the first team to blow a 3-0 lead in the playoffs, but because playing on the road doesn't seem to affect this team in the least, they won Game 7 in Boston to reach the NBA Finals.
Tonight, for the third time, they face elimination. They'll need to reel off three straight against the Denver Nuggets to become the first eighth seed to win it all and add to a dramatic June in Miami, where the NHL's Panthers are also in the finals as a No. 8 seed (they're also down 3-1 ahead of tomorrow's game), and Major League Soccer's Inter Miami has just signed some guy named Messi.
So if one were to cross the writers' picket line, Butler would score 40 tonight to lead his team to a 110-107 win, and Tyler Herro would finally return to the lineup in Game 6 to inspire the Heat to take the next two.
(Hold that thought for late news – Herro has been upgraded to questionable for tonight's game. Maybe someone is writing the script after all.)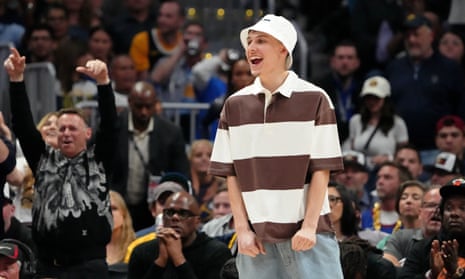 Beau will be here shortly, in the meantime here's Aaron Timms on Nikola Jokić's journey to the top of the game.
Hybridity has always been in Nikola Jokić's basketball DNA; after all, this is a player who was famously drafted by Denver in the middle of a Taco Bell commercial for the quesadilla-burrito mashup known as a quesarito. The pretty, historic town of Sombor, where Jokić grew up, is tucked into the northwestern pocket of Serbia, flush against the borders with Croatia and Hungary; the Hungarian, Habsburg, Ottoman and Austrian empires have all, at various points over the past half-millennium, laid claim to it. Jokić, perhaps fittingly given his origins, has emerged over this postseason as the NBA's ultimate border-hopper: a center with the touch of a guard, a prodigious scorer who's better as a passer, the embodiment of total basketball, infinitely adaptable, positionless but always in position, a crossroads in human form.
As Denver tightened their grip on the finals with a coolly commanding Game 3 win in Miami on Wednesday night, a talent that once threatened to go unrewarded with the hard currency of titles has come thrillingly into mint. Jokić's numbers – 32 points, 21 rebounds, 10 assists – made him the first player ever to post a 30-20-10 game in the NBA finals. But most impressive was the way in which he accumulated these figures, with a freedom and variety that captured the best of his childhood heroes.
Growing up in Serbia in the early years of this century, Jokić would spend hours on YouTube watching his favorite NBA players. "I watched Magic because of his passing, and Hakeem because of his post moves, and Jordan because he is Jordan," Jokic wrote in 2016, a year after joining the Denver Nuggets as a second-round draft pick. The two-time MVP is clomping through these finals with the vision and improvisational sizzle of Magic, Hakeem the Dream's size-defying touch and footwork, and Jordan's on-court omnipresence and invincibility, his sheer weight of numbers and aura of statistical destiny. A claim for historical greatness is convincingly being assembled.
You can read the full article below:
How to watch the NBA finals
Every game of the NBA finals will air in the US on broadcast TV (ABC), live stream (ESPN3) and on NBA League Pass.
UK viewers can watch on Sky Sports or NBA League Pass. Australian viewers can stream on Kayo Sports via ESPN and additionally through NBA League Pass.
Best-of-seven series. All times US EDT.
Thu 1 Jun Game 1: Nuggets 104, Heat 93
Sun 4 Jun Game 2: Heat 111, Nuggets 108
Wed 7 Jun Game 3: Nuggets 109, Heat 94
Fri 9 Jun Game 4: Nuggets 108, Heat 95
Mon 12 Jun Game 5: Heat at Nuggets, 8.30pm (ABC)
Thu 15 Jun Game 6: Nuggets at Heat, 8.30pm (ABC) *
Sun 18 Jun Game 7: Heat at Nuggets, 8pm (ABC) *
* if necessary