'Iwobi Is Playing Like Messi' – Fans Hail Versatile Everton Winger After Display Vs Chelsea:: All Nigeria Soccer
'Iwobi Is Playing Like Messi' – Fans Hail Versatile Everton Winger After Display Vs Chelsea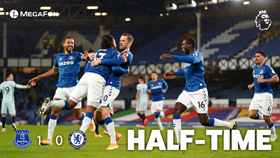 Chelsea's long unbeaten streak, seventeen in all competitions, finally came to an end after losing 1-0 to Everton at Goodison Park on Saturday night.
Having played as a makeshift wing-back in his last three matches for the Toffees, manager Carlo Ancelotti deployed the Nigeria international in a more familiar position against Chelsea, playing him as a right-sided midfielder on the flank.
A rare Edouard Mendy error proved costly; Dominic Calvert-Lewin was fouled by the Senegalese and Gylfi Sigurdsson converted from the spot midway through the first half.
Chelsea had their moments to get something from the game but hit the woodwork in each half.
Despite the change in position, Iwobi continued his good form in recent weeks with an eye-catching performance against Chelsea and fans sang his praises during the game .
Here's what they have been saying on Twitter about the Everton number 17:
@Eben_Ik : "You see that ancelotti is smart Using iwobi brilliantly in this game, knows chillwell is usually out of position, so just put iwobi there to take advantage".
@ajstylesmusic : "Iwobi causing problems".
@BigHops22 : "Alex Iwobi has been fantastic".
@dxvin3 : "Iwobi's been balling for weeks".
@Duzo_10 : "Iwobi had done a number on Chilwell tonight. He may not be as Solid as he seemed, may be the weakest link in this defence."
@boatbxy : "Watching iwobi these days gives me joy".
@Rellaizy : "Iwobi is playing like Messi against us, to think I've a crush on him I nor crush again."
@LobosPowerHour : "Something I never thought I would say, I'm starting to like Alex Iwobi"
@Bluefanatic__ : "Every time Iwobi faces Chelsea he turns Prime Messi.."
@seyii_ayeni : "See as iwobi don turn Messi for Chelsea he".
@chrisharry4 : "Iwobi been sound can't fault him. Looks dangerous".
@cokoisu : "Iwobi has had a very mature game today. Impressive".
@notolut : "Iwobi is having a great game today!"
@RetiredGoodBoy : "Iwobi better pass Willian????".
@TheRealMukz : "Not Chelsea making Iwobi look like prime Ronaldinho".
@Sumo08112 : "Iwobi is having a great game. If only his teammates could play him a decent pass".
@sar_GENT : "Iwobi having a prime Zidane game."
@alex__Himself : "Calvert Lewin be hard oo, also Iwobi is really improving his game play. Really happy for him. I thought he was downgrading from Arsenal to Everton".
@GoonerJaffer : "Iwobi doing well recently for Everton".
@lolu_adeniran : "Iwobi been so good this season under carlo".
@boi_gad : "Eii Chelsea…we make Iwobi turn Messi".
Ifeanyi Emmanuel
Photo Credit : evertonfc.com
Copyright ANS
All rights reserved. This material,
and other digital content on this website, may not be reproduced,
published, rewritten or redistributed in whole or in part without prior
express written permission from allnigeriasoccer.com