'I Know The Category I Belong In Super Eagles' – Mikel Agu Not Surprised Over World Cup Axe:: All Nigeria Soccer
'I Know The Category I Belong In Super Eagles' – Mikel Agu Not Surprised Over World Cup Axe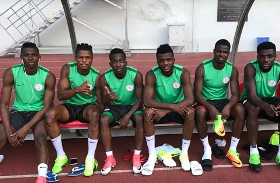 Vitória de Guimarães midfielder Mikel Agu held a no-holds barred interview with the Super Eagles Media Team on Friday evening and one of the subjects he touched on was his omission from Nigeria's final 23-man roster for the 2018 World Cup.
The former Porto ace claims he saw the handwriting on the wall he was surplus to requirements before Gernot Rohr's squad announcement because he was a fringe player in the national team.
Leading up to the tournament, the highest number of minutes he had spent on the pitch was an hour against Zambia in a 2018 World Cup qualifier, where he was a shadow of himself after coming on for an injured Eddy Onazi.
"I felt more devastated with my performance against Zambia than than being dropped from the World Cup. People get messed up because they don't understand the situation and about the journey," Mikel said on Instagram Live,
"In life before you do anything, it must be studied. You don't just wake up one day, carry a car to drive, you have to be composed.
"At that point in that team, I was not having it in my mind that I was guaranteed to go to the World Cup, I know my capacity, I know the category I belong in the national team.
"Of course it's every player's dream to be in the World Cup, I was down because I have to wait again for four years more before I can go to the World Cup, this was something I would have broken the record already."
He added : "When I was dropped after the game against England, I stayed back one day in London, I went for shopping for my son, I felt relaxed.
"There are players in that team that are guaranteed to go to the World Cup, we all know, you don't need to prove yourself to the coach, even if each training you score own goals, you will still go the World Cup.
"You have to know the position you are in life, I know that at that point, national team, I need to work hard so I felt I was doing trials and had to pray everyday for me to make the list.
"I already knew I had to work hard, it was 50-50, I might be there, I might not be there.
"When I was dropped I felt free, relaxed, it was less stress for me, I don't need to think how I 'm going to play against Argentina."
Mikel claims that he received about fifteen offers from clubs, including Marseille, despite missing the World Cup and cited the outstanding season he had with Bursaspor as the reason behind several clubs battling for his signature.
"After the World Cup, because I had a good season in Bursaspor, that was the year Marseille came for me.
"I didn't got to the World Cup but I had close to fifteen offers as if I went to World Cup," he concluded.
The 26-year-old Mikel has not played for the Super Eagles since going the distance against Uganda in a pre-AFCON friendly in November 2018.
Ifeanyi Emmanuel
Copyright ANS
All rights reserved. This material, and other
digital content on this website, may not be reproduced, published,
rewritten or redistributed in whole or in part without prior express
written permission from allnigeriasoccer.com
(adsbygoogle = window.adsbygoogle || []).push({});