'He's Not A Snake'- Ex-West Brom LB Udeze Backs Giroud To Leave Chelsea For Tottenham:: All Nigeria Soccer

'He's Not A Snake'- Ex-West Brom LB Udeze Backs Giroud To Leave Chelsea For Tottenham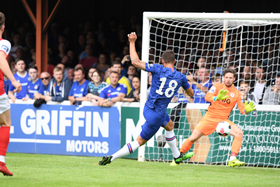 Former Nigeria international Ifeanyi Udeze on Thursday expressed his support for Chelsea and France striker Olivier Giroud to make a move from Chelsea to Tottenham Hotspur before Friday's winter transfer window.
Giroud who won the 2018 FIFA World Cup with France has emerged as a target for the London side Spurs who are seeking a short term replacement for the injured Harry Kane expected to be out of action for four months.
The speculation has not gone down well with both Chelsea and Arsenal fans who have taken to social media to lambaste the onetime Montpellier forward.
Udeze, who wore the colours of West Brom during his playing days and is now a pundit, bared his mind on Brila FM's morning programme 'VAR' where he unequivocally stated that players are not indebted to their club supporters in making transfer decisions.
"I will tell you that Olivier Giroud joining Spurs is not a betrayal, he's not a "snake" as he's been called by some fans," Udeze said.
"When he signed for Arsenal did they have it in his contract that he will never play for a rival club? Football is his job and so he's free to sign for whatever club he wishes to sign for. That is the truth.
"If two clubs and fans and clubs have issues, it doesn't concern the players. In Milan the players of AC Milan and Inter Milan move to either clubs. Is there any rivalry bigger than the Milan? If there was any rivalry or derby bigger than that, do tell me. None.
"I could have moved from PAOK to bitter rivals Aris whilst I played in Greece. I only have to know my limit and not move into the territory of Aris. If I wanted to go to Aris I could have but I didn't want to.
"Giroud is not the first choice striker at Chelsea and the Euro 2020 Championship will hold this summer. The guy wants playing time so the fans can call whatever names they wish.
"I would support him to sign for Tottenham Hotspur so that he can secure his place in France's team to the Euros," Udeze stated.
Giroud left Arsenal for Chelsea in January 2018 in a deal that saw Mitchy Batshuayi move to Borussia Dortmund from Stamford Bridge who in turn let Pierre-Emerick Aubameyang sign for Arsenal.
The Gunners have proven to have the best deal from that transfer merry go round with Aubameyang in two seasons emerging the club's leading scorer.
Izuchukwu Okosi
Photo Credit : chelseafc.com