Covid live news: UK reports 31,772 daily infections and 26 new deaths; new restrictions in Libya after record cases | World news

13:45
France has reported 4,256 new Covid cases and four deaths over the past 24 hours.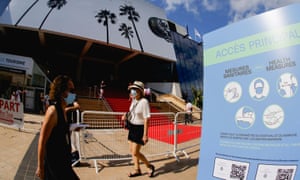 13:39
New Covid restrictions introduced in Libya after cases hit record high
Libya has introduced new coronavirus restrictions after cases hit a record high (see 11.59).
Prime Minister Abdulhamid Dbeibah said in a decree that cafes must close, weddings and organised funerals with mourners are banned and public transport use is barred for the next two weeks, AFP reports.
Badreddine al-Najjar, the head of the National Centre for Disease Control, warned of a "critical" situation after a rapid rise in infections.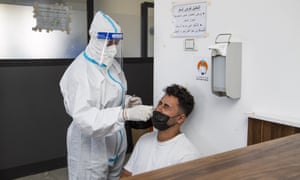 13:30
US president Joe Biden's chief medical adviser Dr Anthony Fauci has said "it is entirely conceivable, maybe likely" that Americans will require a booster shot of the Covid-19 vaccine. But he said it is still too soon for the government to issue a recommendation, AP reports.
"Right now, given the data and the information we have, we do not need to give people a third shot," he said. "That doesn't mean we stop there…There are studies being done now ongoing as we speak about looking at the feasibility about if and when we should be boosting people."
"Certainly it is entirely conceivable, maybe likely at some time, we will need a boost,'' he added.
So far around 48% of the US population is fully vaccinated.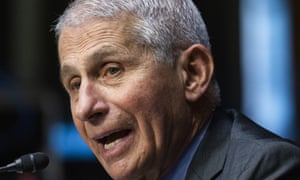 13:10
Leading scientists warn UK government patent protections 'threatening the security' of vaccinations
In the UK, leading scientists have warned the government that patent protections on coronavirus vaccines are "threatening the security" of the vaccination programme and could result in further lockdowns.
They said the government is running the risk of "producing variants instead of vaccines" by allowing the virus to spread in poorer countries which could lead to new variants.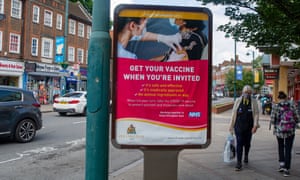 Professor Stephen Reicher, professor of social psychology at the University of St Andrew's and member of the Scientific Advisory Group for Emergencies (SAGE) subcommittee on behavioural science, said:
We need urgent action to allow poorer countries to produce their own safe, effective vaccines for their populations by waiving patents. That would be a truly remarkable gift to the world. It would help increase our standing in the world at a time when we so badly need trading partners. And ultimately it is the only means of consigning Covid to history and so ending the threat of further lockdowns for good.
Christina Pagel, Professor of operational research at University College London and a member of the Independent SAGE group of scientists, said:
The government is banking on the UK's relatively advanced vaccine rollout to provide protection against Covid-19 after July 19. But vaccines can only protect us for so long, while the pandemic rages on in low and middle-income countries, spreading among the billions of unvaccinated people.

Each new infection risks developing new variants of Covid-19 that are more virulent or resistant to our current vaccines. If that happens, our entire vaccination programme could be derailed making further coronavirus restrictions and lockdowns all but inevitable.
Just 1% of people in low-income countries have received at least one dose of the vaccine, according to Oxford University. Over 130 countries support the waiver, including the US and France, but Germany and the UK have blocked the proposal.
Updated


12:49
Face masks are to remain compulsory on public transport and in health and social care settings in Wales, the government has said.
In contrast to England, where the obligation to wear face coverings is expected to end on July 19, First Minister Mark Drakeford said:
We know many people are still worried and anxious about going out. We will maintain the requirement to wear face coverings in certain places – on public transport and health and social care settings, and others where necessary – to help keep us all safe.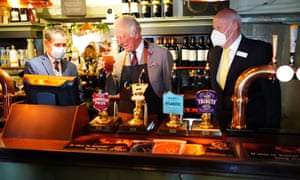 Updated


12:30
In the US, the New York governor has announced that two-thirds of adult New Yorkers are now fully vaccinated.
Andrew Cuomo said 31,484 doses administered over the last 24 hours and that there was one Covid death in the state yesterday. 399 patients across the state were hospitalised. Last spring the state was the epicentre of the pandemic in the US.
He said:
Our metrics continue to show steady progress toward slaying this Covid beast, and we have our health care heroes and everyday New Yorker who made sacrifices throughout the course of the pandemic to thank for it.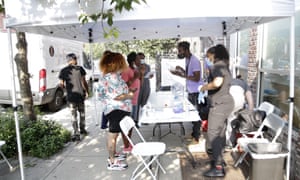 11:38
Also in the UK, the latest vaccination figures show that there have been 80,646,232 Covid jabs administered so far – 45,881,721 of which were first doses and 34,764,511 were second doses.
Meanwhile, figures from the Office for National Statistics show that there have been 153,000 deaths registered in the UK where Covid-19 was cited on the death certificate.

11:30
Italy has reported 7 Covid deaths today and 1,391 cases. It's a slight decrease from yesterday when the respective figures were 12 and 1,400.
Updated


11:10
UK reports 26 deaths and 31,772 cases
The UK today reported 26 new coronavirus deaths and 31,772 new cases. It's a slight drop on yesterday's figures which were 34 and 32,367 respectively.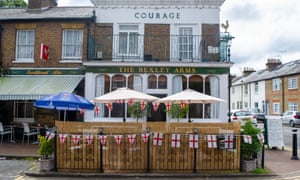 I'm taking over the liveblog now. Please get in touch with any tips or suggestions: [email protected]

10:37
Senegal reports record new coronavirus infections
Senegal reported 529 coronavirus cases on Sunday, a record in new daily cases there since the start of the pandemic, and a sign that a third wave of infections was gaining speed, reports Reuters.
The growing infection rate has alarmed authorities, but they have stopped short of imposing stringent measures to curb the spread after previous restrictions led to economic hardship that helped to fuel violent protests in March.
Senegal has reported 46,179 coronavirus cases since the start of the pandemic, and 1,194 deaths. So far it has vaccinated close to 600,000 from a total population of around 16 million.
Reuters data shows that the seven-day average for new daily coronavirus infections in Senegal has risen to 194, a third below what the rate was during the peak of the second wave in February.

10:33
Vietnam reports record 1,953 new coronavirus infections on Sunday
Vietnam reported 1,953 COVID-19 infections on Sunday, a record for daily case numbers.
Most of the cases were recorded in Ho Chi Minh City, the epicentre of the country's outbreak, which on Friday began 15 days of broad movement restrictions.
Vietnam will impose movement restrictions in the Mekong Delta city of Can Tho for 14 days starting on Monday due to coronavirus, the government said on Sunday.
The city of 1.23 million people has reported seven infections over the past week.

10:15
Vaccinations at a site in Brighton have been postponed following anti-lockdown demonstrations in the city.
The Press Association reports:
Protestors surrounded a vaccination bus on the seafront on Saturday, pictures on social media suggest.
NHS Brighton and Hove CCG announced that vaccinations on Hove Lawns were postponed on Sunday "to ensure that everyone is able to receive their vaccine safely and without any pressure put upon them".
The healthcare provider said its staff "experienced disruption during the anti-lockdown measures protest in the city".
Vaccinations are still available elsewhere in the city.
Brighton and Hove council leader Phelim Mac Cafferty, said:
As we have rising cases, it is incredibly disappointing to see the irresponsible actions of a few putting in danger the many.

We reaffirm our city's need to keep our population safe and we won't be deterred from our important vaccination programme by the acts of cowards spreading misinformation.

We encourage everyone to take up both vaccinations at the earliest point they can. Our proud tradition as a city is that we work against adversity and we won't be deterred from fighting the pandemic together.
Brighton and Hove has experienced a sharp rise in coronavirus infections in recent weeks, with the area recording 423.5 cases per 100,000 people for the seven days to July 5, according to data analysis by the PA news agency.
A walk-in vaccination service will continue to be available at Brighton Racecourse from 2.30pm to 6.30pm and will be open to all on Monday.
There will also be walk-in services every day next week, including at the Brighton Centre from 8.30am on Monday.

09:45
Bangladesh records highest daily coronavirus death toll
Bangladesh has recorded its highest daily coronavirus death toll as well as highest number of single-day cases with health authorities "fearing the situation to deteriorate further in the coming weeks", reports the Dhaka Tribune.
The Directorate General of Health Services (DGHS) reported 230 new deaths and 11,874 cases in 24 hours to 8am on Sunday.
The record was previously broken on Friday, when Bangladesh recorded 212 deaths.
The number of single-day infection surpassed the previous high of 11,651 cases on Thursday.
The total number of deaths in Bangladesh has reached 15,419 while the number of total infections rose to 1,021,189 in the country.

08:53
Stephen Reicher, also a member of the Sage subcommittee advising on behavioural science, is even more clear that he thinks the government is making a major mistake lifting all coronavirus restrictions:

08:50
Susan Mitchie, a professor of health psychology at University College London and part of the Covid-19 behavioural science team, isn't overly impressed with Zahawi's statement this morning that people will be "expected to" wear masks on public transport and in enclosed spaces.