Commonwealth Games 2022: athletics, swimming and more on day six – live! | Commonwealth Games 2022
Key events
Please turn on JavaScript to use this feature
Cross-country cycling: Two laps into the seven-lap race England's Evie Richards has extended her lead out over 30 seconds. She'll take gold if she stays upright and the bike behaves itself. The battle for silver and bronze is a triple header between Isla Short (Sco), Zoe Cuthbert (Aus) and Candice Lill (SA).
Cricket: Australia have comfortably beaten Pakistan by 44 runs. That seals their spot in the semi-finals.
Cross-country cycling: England's Evie Richards is tearing things up over at Cannock Chase Forest. She's opened up a 13 second lead over Scotland's Isla Short in second.
Thanks David and hello everyone. Can anyone else not hear the word plethora without thinking of the Three Amigos? "Yes El Guapo! You have a plethora …" Anyway, here's what's coming up this afternoon and evening (all times BST):
Now Cross-country cycling
Now Weightlifting finals
4pm Squash finals
5pm Judo finals
7pm Athletics, featuring KJT and the men's and women's 100m finals
7pm Swimming, featuring a plethora (El Guapo!) of top talent including Australia's Ariarne Titmus
They're underway in the women's cross-country cycling – just eight riders taking part – and for coverage of that and a plethora of other sports I'll hand you over to John Ashdown.
A quick round-up of the highlights so far…
England's Katarina Johnson-Thompson has a 122-point lead heading into the final two events (javelin and 800m) of the heptathlon later this evening.
Victoria Ohuruogu of England was the fastest qualifier in the women's 400m heats.
Wolverhampton local, Matthew Hudson-Smith, a bronze medallist in last month's world championships, won his heat to qualify for the semis of the men's 400m.
New Zealand's Sam Gaze defended his men's cross-country cycling title.
Weightlifter Junior Periclex Ngadja Nyabeyeu of Cameroon won the first gold medal of the day after taking victory in the men's 109kg category.
Swimming: The BBC now showing some morning highlights from the pool.
England's Tom Dean and Scotland's Duncan Scott also resume their fierce but friendly rivalry in the final of the men's 200m Individual Medley this evening (7.07pm). However, Brendon Smith of Australia was quickest in qualification.
In the men's 4×100 medley relay, Australia qualified fastest in front of England and Scotland.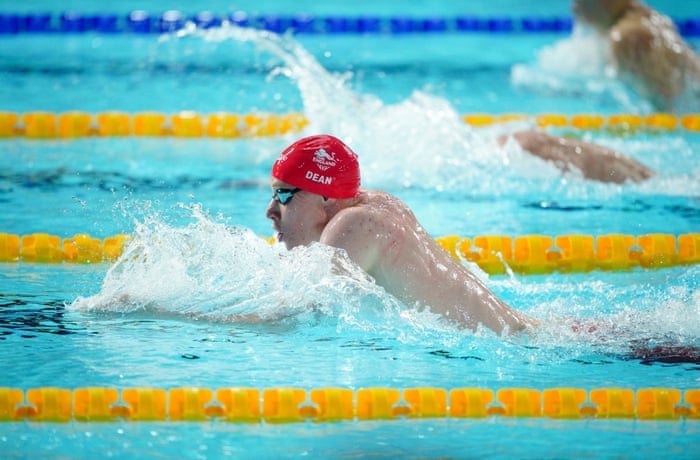 Women's cross-country cycling: There won't be a New Zealand rider wining gold in the women's event which starts at 2pm. That's not a wild/snotty prediction from me; there aren't any Kiwis in it.
If I'm reading this right, only eight riders are taking part. They include Evie Richards of England and Scotland's Isla Short. Jersey duo Emily Bridson and Lisa Mansell also go for glory.
Women's T20 cricket: Pakistan now 60-5 in the 13th over as they try and chase down Australia's total of 160-2. Looking very unlikely it has to be said.
Men's 400m: A round-up of those seven heats and Muzala Samukonga does indeed qualify fastest for the semis in 44.89sec. No prizes for that although the PB is nice. Jamaican duo Nathon Allen and Anthony Cox are second and third quickest in 45.18 and 45.51 respectively and those two could be the biggest threats to Matthew Hudson-Smith.
Athletics men's 400m heats: An easy qualification for local hero Matthew Hudson-Smith, a bronze medallist at the world championships last month. The Englishman wins his heat in 46.26sec. Dube Amene of Nigeria and Joe Brier of Wales bank the other two qualification spots.
Hudson Smith, from nearby Wolverhampton, says: "I've been [running] here since I was 10 years old. I know the lay of the land. I'd be a fool if I didn't feel confident. I've come to win."
There's what BBC commentator Andrew Cotter calls "youthful exuberance" as 19-year-old Muzala Samukonga of Zambia runs his heat as if it's the final, collapsing in a heap after straining every sinew to win in a PB of 44.89sec. It's a good time but he still has the semis and final to run!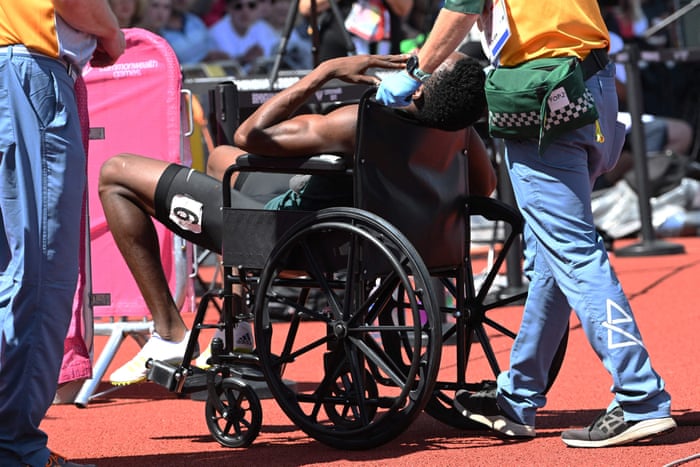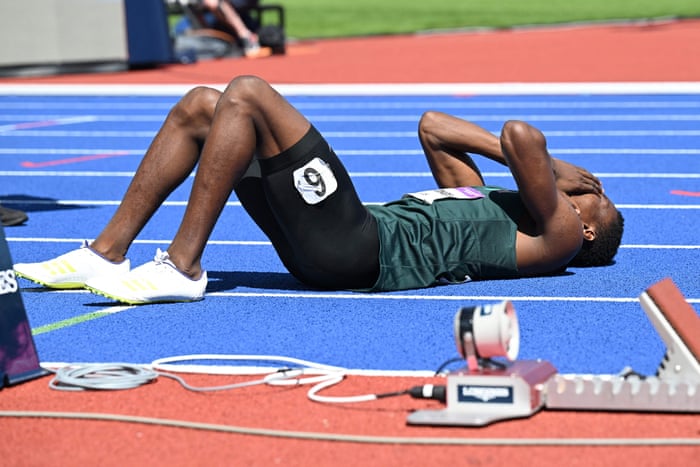 Thanks Martin. You've caught me googling Precious McKenzie. Must be the fact that the two golds awarded so far have been a weightlifting one and another won by a New Zealander.
McKenzie won Commonwealth titles representing both England and New Zealand. And, of course, he was namechecked by Half Man Half Biscuit.
"Precious McKenzie, boy I remember you well
Gob full of tapioca, I would sit and I'd watch you excel…
Men's cross-country cycling: The bronze medal goes to Alex Miller of Namibia, a stunning achievement for the 21-year-old who made a late attack to pass Blackmore and Orr who had been in a group contesting third place for most of the race but both finish empty-handed.
And now I will hand you back to David Tindall. I'll see you tomorrow.
Gold for Samuel Gaze of New Zealand in the men's cross-country cycling!
Men's cross-country cycling: Samuel Gaze of New Zealand, pre-race favourite as soon as his team-mate Anton Cooper dropped out with a positive Covid test, is nailed on for gold unless he falls off his bike. Which, now I've mentioned it, is a distinct possibility if my previous coverage of this race is anything to go by …
But he doesn't.
He crosses the line and wins!
It is going to be a New Zealand one-two with Ben Oliver set for silver.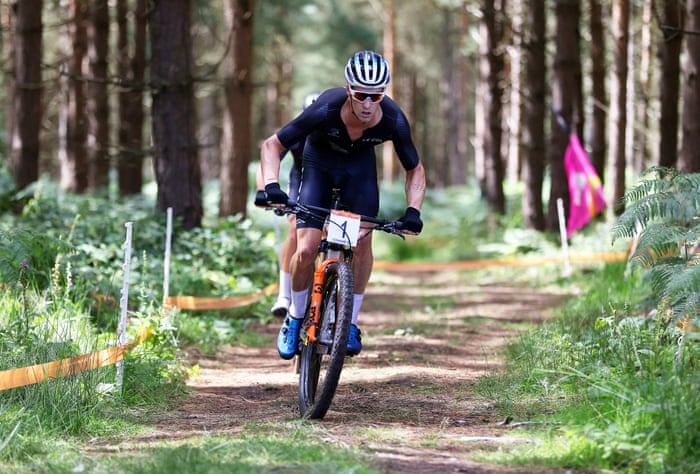 Men's cross-country cycling: Miller looks to have secured bronze here with an attack on the last lap.
Men's cross-country cycling: They are on the last lap here, and Miller of Namibia has staged a brilliant late attack and has bridged the gap to Orr and Blackmore, four seconds separate them and there is just one bronze medal available. The New Zealand pair still lead, Samuel Gaze is still in pole position for gold.
Women's hockey: It looks like my "live" stream of Canada and India was a little bit behind, and I can confirm that India have indeed won that match 3-2, which means they progress at Canada's expense. It was becoming a very niggly affair with several lengthy video reviews, none of which were being helped by me shouting my scant knowledge of the rules of the game at the telly. England and India progress from Pool A. Canada rue their luck.
Athletics men's 400m: There are a series of heats for this event going on on the athletics stadium, with people taking it pretty easy to be honest on their way into the semi-finals. The top three from each heat qualify. Grenada's Michael Francois has been an exception to the rule, putting in a personal best to finish third in the third heat and progress.
Men's cross-country cycling: Sam Gaze has opened up a 25 second lead now over teammate Ben Oliver as they grind their way towards this one-two. Orr has edged in front of Blackmore. They are 1:25 behind.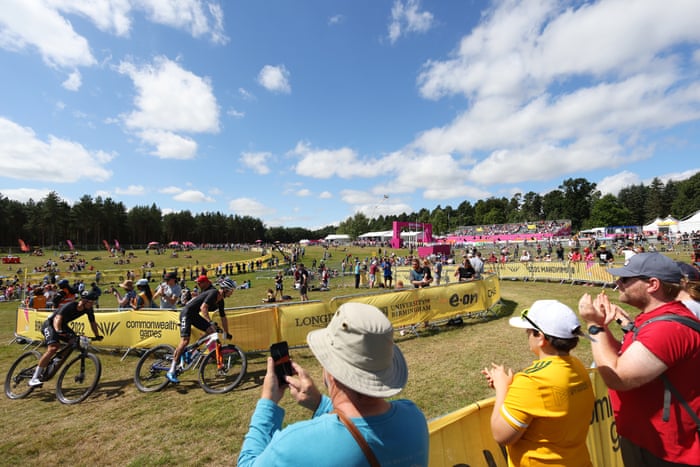 Women's T20 cricket: Australia posted a total of 160-2 for their innings in their match against Pakistan. The latter have nothing to play for but pride, and they are currently one wicket down for no runs after four balls.
Women's hockey: This vital match between Canada and India is tightly poised still at 2-2 as they approach the end of the third quarter.
Men's cross-country cycling: I regret to report that the curse of the live blogger has struck, and having described this race as a bit boring, Scotland's Charlie Aldridge promptly lost control of his bike, had a brief fall, but he's managed to knacker his bike in the process, and he is currently trying to effect running repairs so that he can at least freewheel where possible down to the tech area. He's out of contention.
So, we should still be on for a New Zealand one-two, but bronze looks to be between Joseph Blackmore of England and Cameron Orr of Northern Ireland. At times Orr was appearing to struggle to hang in the group of three, so you would back the Englishman here.
And then at the front, Samuel Gaze has struck out, leaving Ben Oliver behind. Oliver will probably have to be content with silver. But now Oliver is alone, and Blackmore and Orr could be working together …
Gold for Cameroon's Junior Periclex Ngadja Nyabeye in the weightlifting
Weightlifting: Cameroon's Junior Periclex Ngadja Nyabeyeu has taken the -109kg Commonwealth Games title in the weightlifting, with a combined total of 361kg, which I always think sounds like a lot of things to lift. That is, I think I am right in saying, Cameroon's first medal in Birmingham.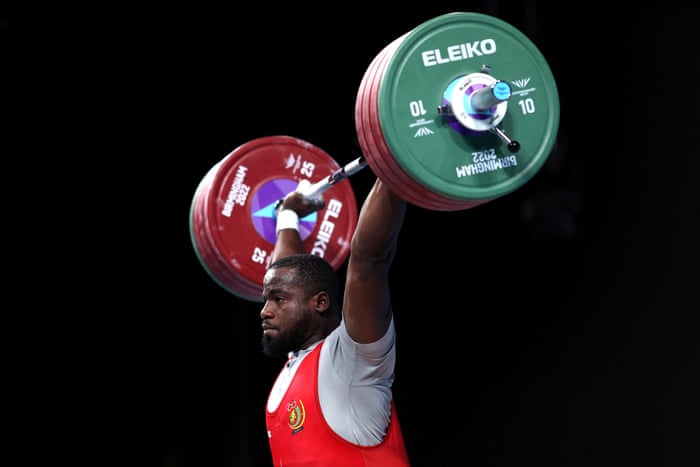 Hitile Opeloge of Samoa came second, with India's Singh Lovepreet.
Men's cross-country cycling: Don't say it too loudly, but this race hasn't actually been as exciting as I thought it would be, such is the domination of New Zealand's Samuel Gaze and Ben Oliver, who are now just about a minute ahead of the chasing group, as we have gone past the halfway mark.
Aldridge, Blackmore and Orr, representing three of the home nations, are still bunched together. But they are neither working well enough together to close the gap, nor working well enough individually to stage their own solo attempt to secure the medal. It is a bit of a stalemate.
Women's hockey: Earlier today Australia secured a semi-final berth and broke Scottish hearts with a 2-0 victory that dashed Scotland's hopes of progressing from Pool B.
Currently India are leading Canada 2-1 in Pool A, as they are approaching half-time. England are already through from this group with three wins from three. India must win today if they are to progress, as both Canada and India have won two and lost one so far, but Canada have the superior goal difference.
Netball: South Africa and Wales have traded early points and it is 3-3 in their pool match which started at noon. Like the women's T20 cricket this morning, there's not much at stake here unfortunately.
Neither side can progress, but they are placed 3rd and 4th in the group, so whoever comes out on top of this will most likely end up in the 5th/6th place play-off, with the losers looking at a 7th/8th place classification match at best.
Men's cross-country cycling. Oliver and Gaze of New Zealand are still way ahead here at Cannock Chase, with a 33 second lead over what is now a group of three. England's Joseph Blackmore has managed to bridge the gap and is now sandwiched between Aldridge and Orr fighting it out for bronze. Alexander Miller of Namibia is 50 seconds back from the leaders in sixth place.
Judo: It has been a busy morning of Judo, and there are some people through and guaranteed medals in tonight's session.
In the men's -90kg category, it will be England's Jamal Petgrave against Remi Feuillet of Mauritius.
The women's -78kg will be an all-UK affair, with Natalie Powell of Wales facing England's Emma Reid.
Canada have dominated the -100kg men's category and Shady Elnahas and Kyle Rees will take both gold and silver back across the Atlantic with them.
There are still spots in the women's +78kg category and the men's +100kg grouping up for grabs.
The evening sessions starts at 5pm.
Men's cross-country cycling: This race is being dominated so far by Samuel Gaze and Ben Oliver of New Zealand who are out in front. They are 17 seconds in front of Charlie Aldridge of Scotland and Northern Ireland's Cameron Orr, suggesting that is already a contest for bronze, with a New Zealand one-two wrapped up. But we shall see.
Women's T20 cricket: Australia are ticking along at 58-2 off 9.4 against Pakistan.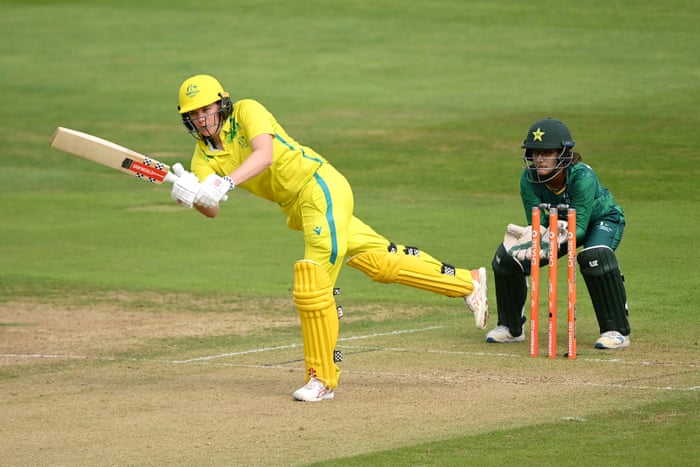 Athletics men's 800m: Australia's Peter Bol won the second heat in 1:47.01, qualifying for the final alongside Boitumelo Masilo of Botswana. The third heat has also just finished, with England's Ben Pattison closing that race out in 1:48.00 ahead of Kenya's Wyclife Kinyamal. Alex Amankya of Ghana has grabbed a fastest qualifier slot. The final, as I mentioned just now, is on Sunday.
Heptathlon: The long jump has finished. Katarina Johnson-Thompson leads Jade O'Dowda by 122 points overall. KJT has 4718. Taneille Crase is poised nicely for Australia in third on 4,525, but England's Holly Mills and Northern Ireland's Kate O'Connor will also still reckon they are in reach of a potential podium place in 4th and 5th.
Next up for the women is the javelin, which is scheduled to start at precisely 7.08pm tonight. The 800m closes out the event at 9pm.
Men's cross-country cycling: The men's race is underway in Cannock Chase. There are 26 cyclists on the start-list. Australia's Daniel McConnell is setting the early pace.
I'm getting a warm feeling of nostalgia because I used to date someone who lived in Cannock, so the last time I would have seen this scenery would have been for late night drinking and general young person's misbehaviour.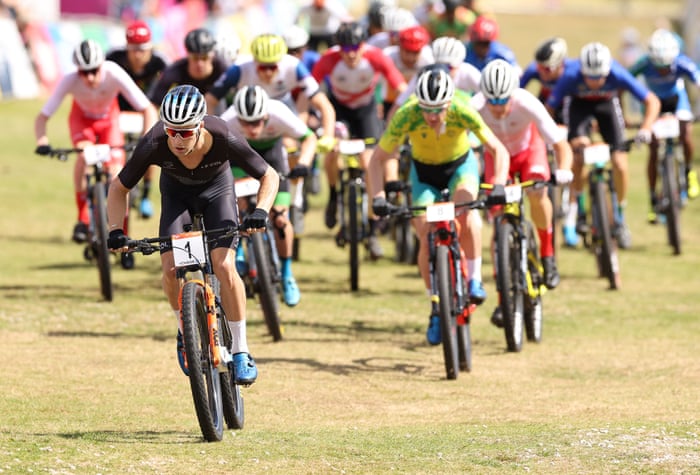 Athletics men's 800m: We are now getting into the heats for the men's 800m. England's Jamie Webb will have hoped to benefit from a home crowd, as might Guy Learmouth of Scotland. And they end up being the two automatic qualifiers.
Elias Ngeny of Kenya was third in 1:49.53 and will be sweating on being a fastest finisher.
A quick shout out to Alex Beddoes of the Cook Islands, who finished seventh but posted a season's best time.
Afterwards Webb said "I've not had the best of years, but you've got to take the opportunities when they come."
The final isn't until Sunday, and Learmouth and Webb joked about having a short holiday and a few beers before coming back at the weekend. Sounds good, lads.
Heptathlon: England's Katarina Johnson-Thompson has improved her best in the final round of the long jump, and now has 6.33m. Team mate Jade O'Dowda went for a massive leap, but it was a foul. She'll have to settle for the lifetime best of 6.52m she posted in the second round.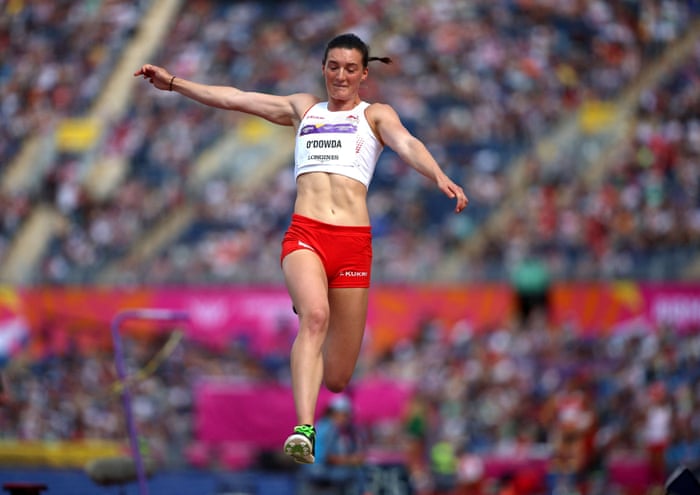 Women's T20 cricket: The Group A match between Australia and Pakistan is underway over at Edgbaston. Australia find themselves 11-1 after 3.2 overs. It is a bit of a dead rubber to be honest. Australia are already qualified for the semi-finals, and Pakistan are without a win so far and unable to progress.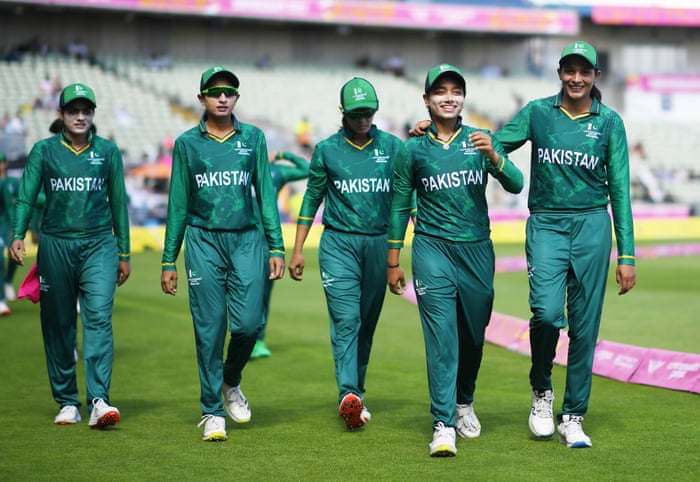 Heptathlon: England's Jade O'Dowda has the longest jump after the second round, at 6.52m. That would give her a whopping 1014 points. KJT is 106 points ahead of her in the combined standings. There is another round of long jump to go.
Hello, Martin Belam here. Katarina Johnson-Thompson has just posted 6.28m in her second jump and is back out in front overall.
I'm looking forward to the mountain bikes today, and on my watch we will also get some T20 cricket, netball, squash, weightlifting medals. It's all good stuff today.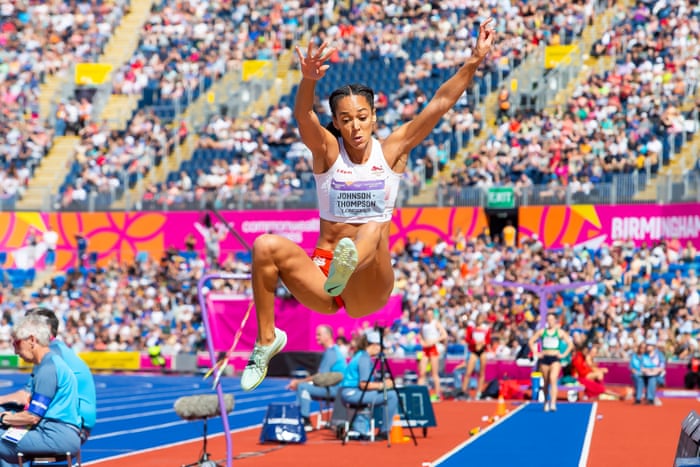 Righty, that's it from me to now. I'll pass the baton to Martin Belam.
Women's 400m heats: A slightly bizarre fourth and final race as favourite Mary Moraa just jogs round in 59.51, finishing way last. She's clearly saving herself for the 800m but that was still a bit odd; as if she was racing against her will.
England's Ama Pipi takes advantage to win in 52.46. It means, Ohuruogu is the fastest qualifier.
Heptathlon: Katarina Johnson-Thompson is about to take her opening leap in the Long Jump. A reminder that she has a lead of 109 points over Northern Ireland's Kate O'Conner.
It's a very modest opener for KJT, just 5.61m. She'll need much more than that and is now deep in conversation with coach Aston Moore.
For context, Johnson-Thompson's PB is 6.92m and her season's best 6.37m.
Women's 400m heats: The action continues and Kyra Constantine of Canada takes the second heat in 52.03. Nicole Yeargin of Scotland comes through in third with 52.52 and that books her spot in the semis. Post-race, Yeargin tells the BBC's trackside reporter, Jeanette Kwayke, that she was "battling Covid last week".
Heat three goes to an easing down Sada Williams of Barbados in 51.67sec (she's run 49.75 this season). Zoey Clark of Scotland and England's Jodie Williams grab the other two automatic qualification spots.
Athletics: Time for the women's 400m heats and Vicki Ohuruogu – younger sister of Christine – comes through to win the opener in 51.34sec. A fine run and continues her strong season. Junelle Bromfield of Jamaica and Asimenye Simwaka of Malaysia are the other two automatic qualifiers.
"The stadium makes so much of a difference. I feel a bit rusty but I think I judged it quite well," says Ohuruogu.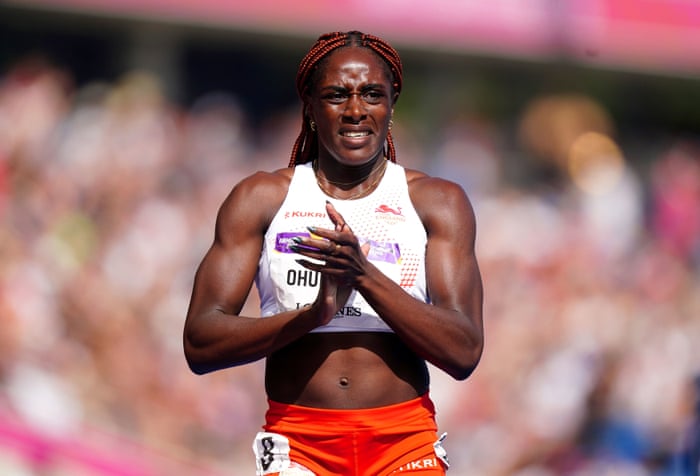 Commonwealth Games in pictures: Some great photos here from yesterday.
Hockey: A brave effort by Scotland but they end up losing 2-0 to Pool A leaders Australia. No disgrace in that. They had to win to have any chance of progressing but it wasn't to be.
T20 cricket: Two games at Edgbaston today, starting with Australia v Pakistan at 11am. That's followed by India v Barbados at 6pm.
The Aussies have won two out of two in Group A so far while India and Barbados have a win apiece from their first two matches. Pakistan have lost both games so can't progress.
In Group B, England and New Zealand are already into the semis with a game to spare after winning their opening two matches.
Athletics: The action in the Alexander Stadium begins at 10.30am with the women's 400m heats.
Eight gold medals will be dished out tonight. Here are the timings if you want to plan your evening:
7pm: men's high jump
8pm: women's 10,000m final
8.05pm: women's shot put final
8.45pm: women's discus F42-44/61-64 final
9.20pm: men's T37/38 100m final
9.30pm: men's 100m final
9.45pm: women's 100m final
The official list doesn't appear to include the heptathlon although that comes to a conclusion too. The schedule says the javelin starts at 7.18pm and the concluding 800m at 9pm. So that's eight gold medals in my book!
Hockey: The BBC's focus right now is on the Pool B match between Scotland and Australia. Grace Stewart's goal for the Aussies in the second quarter separates the teams as the match goes into the final 15 minutes.
As I write this, Shanea Tonkin makes it 2-0.
Judo: Another sport I always enjoy watching in Olympics/Commonwealth Games. It was quite a day for England yesterday as Daniel Powell and Lachlan Moorhead took gold. The action continues this morning.
Weightlifting: Checking the schedule and there is just one gold medal to be handed out this morning. It comes in the men's 109kg final of the weightlifting. It started at 9.30am so we'll keep an eye on that. England's Andy Griffiths is the home hope.
It's been an incredible few days for England gymnast Jake Jarman. Tumaini Carayol gives you the story of his four gold medals.
Ian Reid, the chief executive officer for Birmingham 2022, says some of the stayaway stars will regret missing out on glory. Four world champions from Eugene have swerved the Games: women's 100m gold medallist, Shelly-Ann Fraser-Pryce, 200m champion, Shericka Jackson, 400m world champion, Shaunae Miller-Uibo, and 1500m gold medallist Faith Kipyegon.
"We can't make people come here but, if Shelly-Ann was here earlier and saw the atmosphere and the full stadium, she probably regrets it," he said. "To have 30,000 people in Alexander Stadium for every session of athletics, the atmosphere it's created, I can't think of anywhere for these athletes to be."
If you didn't manage to watch any of the 3×3 basketball, make a point of doing so next time. Here's Tumaini Carayol's report on a dramatic win for England over Australia in a sport he rightly describes as "frenetic" and "hyperactive".
Let's catch up with some of last night's action. Here's Sean Ingle on that golden swim from Adam Peaty.
Welcome to day six of the Commonwealth Games in Birmingham!
After his shock defeat in the 100m breaststroke, Adam Peaty put the world back on its axis last night by doing what he does best and blitzing the field in the 50m. That helped England take its tally of gold medals to 31 although Australia still lead the way with 42.
The action comes thick and fast again today and another of the home nation's top stars, Katarina Johnson-Thompson, continues her bid for gold in the heptathlon. She ended the first day leading by 109 points from Northern Ireland's Kate O'Connor. The defending champion from Liverpool was only 11pts clear after the shot put but ran a 23.70sec 200m to take control. The final three disciplines take place today, starting with the Long Jump which begins at 10.50am. Also on the track today, we have the men's 100m final at 9.30pm.
There are also nine gold medals to be dished out in the pool while the other raft of sports on offer include badminton, boxing, T20 cricket, hockey, judo and squash. Ooh, and for all you cycling fans out there, it's the men's cross-country at 11.30am and the women's cross-country at 2pm. Those races take place at Channock Chase Forest if you're near enough to pop along.
So, sit back and enjoy!