British Grand Prix F1: Verstappen crashes out after Hamilton shunt – live! | Sport

11:51
Lap 44/52 To win with a 10-second penalty would be a ridiculous achievement, and remind the rest of the paddock that an all-time great is on the charge. No doubt Red Bull will be furious at the perceived leniency of the penalty, but they've still got the best car.

11:49
Lap 43/52 Can Hamilton maintain this pace without blistering his tyres? Both he and Leclerc are pushing their steeds, and the lead is now down to 5.793!
1. Leclerc
2. Hamilton
3. Bottas
4. Norris
5. Ricciardo
6. Saiz

11:48
Lap 42/52 Leclerc leads Hamilton by 6.679s, and with 10 laps to go, Hamilton sets a new fastest lap. This could be quite the finish!

11:46
Lap 41/52 In nine laps, Hamilton will be close enough to Leclerc to have a shy at him! Ooh yeah, what a finish this could be!

11:46
Lap 41/52 Hamilton gets by Bottas and naw we'll see! He's 8.041s behind Leclerc, but does he have the pace to attack him?

11:45
Lap 40/52 Is everyone gathering themselves, or is the race going to end as it is now?

11:42
Lap 39/52 Hamilton sets the fastest lap of the race, 1.5 quicker than what Leclerc is managing.

11:41
Lap 38/52 Versttappen has gone to a local hospital for a precautionary check-up and I'm not surprised – the impact and g-force will have been intense. But he seemed fine getting out of his car.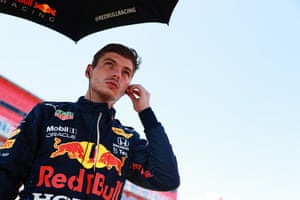 Updated


11:40
Lap 37/52 Leclerc leads Bottas by 9.054s and this is a very fine drive by him. But Hamilton is closing on the latter, and will surely move past at some point before the chequered flag.

11:39
Lap 36/52 Hamilton was meant to be close enough to take Bottas by now, but he's still three or so seconds behind. He'd probably take third, but getting Verstappen out and not managing better will be annoying if it happens.

11:36
Lap 35/52 Leclerc tells his team he's "got plenty of margin". He fancies himself to win this.

11:35
Lap 34/52 Leclerc still leads, Bottas sitting second 9.498s behind, and Hmailton is a further 4.033s away.

11:33
Lap 33/52 Leclerc's problem is engine-mapping, which is a good thing – it's not a mechanical problem that might ruin his race, but a technical problem which can be solved.

11:32
Lap 32/52 Hamilton is giving it loads now, and they reckon he'll be within striking distance of Bottas within two laps; will Bottas let him by? He probably should, especially if he wants to keep his seat, but drivers just aren't built that way.

11:30
Lap 31/52 Hamilton sets a new fastest lap and he's gaining on Norris … then scoots past him into third!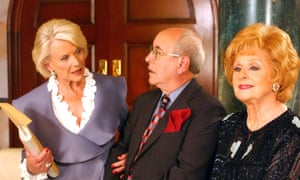 11:28
Lap 30/52 Leclerc pits, and he's away in 2.16s! He needed a change that good, and he comes out 7.167s ahead of Bottas.

11:27
Lap 29/52 Leclerc is going so nicely Ferrari keep him out there, but a poor pit hacks time away from Sainz. Meantime, Hamilton is motoring.

11:26
Lap 28/52 Leclerc leads Sainz by 20.606s, then we have Bottas, Norris, Hamlton, Gasly, Ricciardo and Tsunoda.

11:25
Lap 27/52 Hamilton, having run out of front tyre, pits. There's an official timing the 10 seconds Hamilton must wait, then the change is done, and he comes out in fifth, 35.445s off the front – but Leclerc is still to pit.

11:23
Lap 26/52 Halfway point of the race as Bottas, still in fourth, sets a fastest lap. If Hamilton comes in now, he'll come out sixth, behind Norris Meantime, Leclerc is absolutely nailing at the front, but will have to come in presently.

11:21
Lap 25/52 Bottas is bousting on his new tyres, looking to get into position so that when Hamilton comes in, he's ahead when he comes out, And Hamilton will come in presently, now 2.388s behind Leclerc.

11:19
Lap 24/52 At some point, Hamilton will have to pit and take his 10-second penalty. But for now, he's still out there roughly maintaining Leclerc's advantage.

11:18
Lap 23/52 Bottas comes in now, but a decent change will give him an advantage over Norris … and Mercedes nail it. He comes out ahead of Norris and looks primed to nail Alonso, which he does!
1. Leclerc
2. Hamilton
3. Sainz
4. Bottas
5. Alonso
6. Norris

11:16
Lap 22/52 After being told "100% maximum attack", Norris comes in and he might have a problem with his right-rear tyre. He was stationary for four seconds longer than intended, which should give Bottas the chance to go clear in third.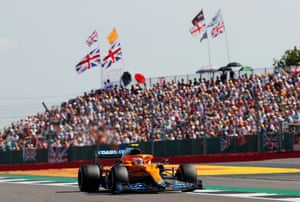 Updated


11:14
Lap 21/52 Leclerc puts in his quickest lap and this is excellent work from him – Hamilton will have expected to take him out quickly, but he's not really got anywhere near. Meantime, Perez nails Raikkonen after they depart the pit lane.

11:12
Lap 20/52 Perez and Raikkonen pit.
1. Leclerc
2. Hamilton
3. Norris
4. Bottas
5 Ricciardo
6. Sainz
7. Alonso
8. Stroll
9. Ocon
10. Gasly
Updated


11:11
Lap 19/52 Hamilton's front-right tyre is blistering, but when I was noting Norris' chances of winning, I neglected to mention that Bottas, 7.424s off the lead in fourth, is also going well.

11:09
Lap 18/52 Leclerc is back ok, but then he isn't again! Hamilton cuts his lead to 0.452s, setting another fastest lap! Meanwhile, behind him, Norris is only 5.846s off the lead and will fancy a win here. What a scene that'd create!

11:08
Lap 17/52 This is great stuff, it really is – we've got no idea who's going to win this race, just that it won't be Verstappen. And Leclerc's engine issues are back with him! Rats! Hamilton is now less than a second behind him, so can use DRS if the chance presents itself!

11:06
Lap 16/52 Leclerc has engine power issues! So Hamilton sets the race's fastest lap, then Leclerc gets himself going again.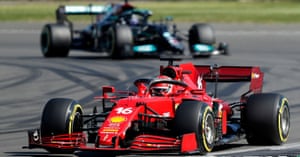 Updated


11:05
Lap 15/52 Hamilton's tyres are too hot – he needs to stay out on them longer than Leclerc – but he's closing the gap now, it being down to 1.159. What's going on?

11:04
Lap 14/52 Bottas, in fourth, is asked to stay out for four laps longer than planned. In front of him, it's Leclerc, Hamilton and Norris; behind him, it's Ricciardo, Sainz, Alonso, Stroll, Ocon and Raikkonen.
Updated


11:03
Lap 13/52 Perez's march through the field has stilled somewhat, while Sainz complains to his team that it's impossible to pass. Mercedes say Hamilton cracked a rim in that collision, so they changed the wheel, but otherwise his car was fine, and they're expecting him to get onto the podium at least.

11:00
Lap 12/52 Hamilton says that as soon as he gets close to Leclerc, he's struggling to follow and might have issues with his rear tyres. He now trails by more than two seconds but as I type that, the lead is cut to around 1.8s.

10:58
Lap 11/52 Perez is up to 12th now, gaining on Gasly in 11th. Meanwhile, Alonso and Stroll are fighting for seventh and eighth, Alonso holding on for now.

10:57
Lap 10/52 Hamilton won't want to open up his front tyres chasing Leclerc, but has to chase Leclerc; I daresay both will be satisfied with their drive since the restart.