Boris Johnson's no-confidence vote: PM tells cabinet to 'draw a line' under Partygate after narrowly surviving bruising ballot – live | Politics
Johnson tells cabinet they can now 'draw a line' under Partygate and focus on issues like cutting costs of government
Boris Johnson used his opening address to cabinet this morning to seek to draw a line under Partygate. PA Media has his words, and he tried to flesh out the line in the press notice issued early this morning (see 9.41am) about how the government is now focusing on "what the people of this country care about most". Here are the main points.
Johnson claimed yesterday's vote was "very important" because it meant the government could now "draw a line" under Partygate. He said:
It was a very important day because we are able now to draw a line under the issues that our opponents want to talk about and we are able to get on talking about the issues, what the issues that I think the people want … and what we are doing to help them and to take the country forward. That is what we are going to do. We are going to focus exclusively on that.
He claimed the government had a "massive agenda" for change. He said:
We are going to get on with the massive agenda that we were elected to deliver in 2019.

It is a huge, huge thing that we are all part off, to really transform infrastructure, skills and technology, uniting and levelling up across the country, unleashing potential across the whole of the UK.

It is the totally morally, socially, economically, politically the right thing to do and we should be proud, proud, proud of what we're doing.
He said he wanted ministers to focus on "cutting the costs of government". Arguing that the government was making a "huge investment" in public services, he said:
But it's not enough just to spend money. We have got to spend it wisely.

We as Conservative ministers, we have got to make sure at every stage that we are driving reform and driving value.

So what I'm going to ask you all to do in each of your departments is make sure that you're thinking the whole time about cutting the costs of government, about cutting the costs that business has to face and of course cutting the costs that everybody else faces, families up and down the country.
But he also said ministers should come up with ideas for public service reform too.
Over the course of the next few weeks, I'm going to ask everybody to come forward with ways in which we can, as I say, cut costs, drive reform and make sure that we understand that in the end, it is people who have the best feel for how to spend their own money rather than the government or the state.

And that is our fundamental, Conservative instinct and that way, I think we will be able to get on with our agenda, making this the most prosperous, the most successful economy in Europe.
But he also said organisations like the Passport Office and the DVLA had to be more efficient. "I think in particular people deserve to get their passport and their driving licence just as much as they deserve to get their test, their scan or their screen on time, promptly and we've got to focus on that," he said.
He claimed the government could deliver tax cuts in the future. He said:
We will have the scope, by delivering tax cuts, I think, to deliver considerable growth in employment and economic growth.
Johnson and other ministers like talking up Tory proposals that would cut tax, but overall the tax burden has risen considerably under his premiership.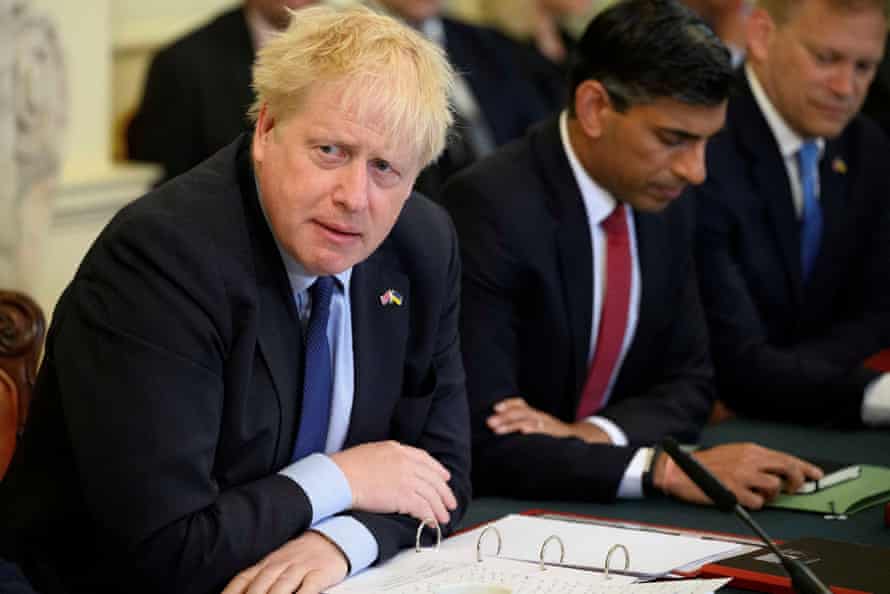 Labour says its proposed Independent Integrity and Ethics Commission would strengthen way standards enforced for MPs
At the start of the Commons debate on the Labour motion on strengthening the ministerial code, Michael Ellis, the Cabinet Office minister, said government MPs would not be voting against. That means the motion should pass when the debate ends in the next hour or so. (See 1.48pm.)
Here are some of the other lines from the opening speeches.
Angela Rayner, Labour's deputy leader, accused Boris Johnson of downgrading standards in public life. Opening the debate, she said:
We all are [proud of British values], but the conduct of this prime minister undermines those values – rigging the rules that he himself is under investigation for breaching, downgrading standards, debasing the principles of public life before our very eyes.

There is nothing decent about the way that he has acted. And what example does he set? This prime minister's example of leadership: illegally proroguing parliament, breeding a Downing Street culture where his staff felt able to break lockdown rules including himself, putting the very standards that underpin our democracy to the shredder.
It is frankly fake news to say, as some have, that it has been weakened. It is the exact opposite, it has been strengthened. In doing so he has unambiguously drawn on the advice of both the independent adviser on ministerial interests and the Committee on Standards in Public Life.
But Rayner said the changes announced by the prime minister did not go far enough because he had not implemented the recommendations from the Committee on Standards in Public Life in full. In a blog, cited in the debate by the Tory MP Danny Kruger, Tim Durrant from the Institute for Government thinktank said it was wrong to claim that Johnson had changed the code to stop him having to resign if he was found to have lied to parliament. But Durrant criticised the revised version of the code because it does not give the independent adviser on ministerial interests the right to initiate his own investigations, and Durrant queried other aspects of the rewrite too. He said:
Beyond the code and the role of the adviser, the most interesting part of [the] announcement is the accompanying statement from the Cabinet Office. In grandiose language, the statement sets out the government's view that parliament can have no role whatsoever in upholding standards inside government as that would risk "conflating the executive and the legislature" …

Changes to the foreword [to the code] also removed reference to the Nolan principles (though these are embedded in the code) and the impartiality of the civil service. In the statement and foreword, Johnson and his allies effectively state that they do not believe anyone should have the right to question how they behave in office once elected.
Rayner said Labour would set up an Independent Integrity and Ethics Commission that will beef up the way standards for politicians are enforced. She explained:
Labour's Ethics Commission will bring the existing committees and bodies that oversee standards and government under a single independent body removed from politicians.

Under our new commission, we would have powers to launch investigations without ministerial approval, collect evidence and decide sanctions.

Honesty matters, integrity matters and decency matters. We should be ambitious for high standards, and we should all be accountable.
John Penrose, the Conservative MP who resigned yesterday as the government's anti-corruption champion, claimed that Johnson's broke the ministerial code in his Partygate activities because, as the Sue Gray report argued, he did not show leadership – one of the seven Nolan principles for integrity in public life required under the code. In response, Ellis did not accept that. The fact that Johnson broke the rules inadvertently was a factor, he said. (Ellis seemed to think Penrose was referring to Johnson being fined, but Penrose was talking about wider failures of leadership exposed by Partygate.)
Rayner criticised claims by ministers that it was now time to move on from Partygate. She explained:
I have heard ministers on the media in the last 24 hours talking about how we must draw a line, how we must move on. But many people in this country cannot draw a line, cannot move on whilst this prime minister is in office, because it triggers them and what they experienced and the trauma that their family faced during the crisis.
Former Brexit minister Lord Frost urges Johnson to cut taxes
Lord Frost, the former Brexit minister, told Radio 4's World at One that he thought the government's main problem was that it was not following Conservative principles, particularly on tax and the economy. He said:
Economic policy has drifted away from where the core of supporters, voters and membership want to go and we need to get back to it. And I believe that the prime minister would like to do that.

This prime minister is always best when he trusts his instincts and does unconventional things. And that's what got us through the Brexit negotiations.
Frost also that the government should reverse the increase in national insurance. Asked if he favoured abandoning the increase, he replied:
Yes – I think that all tax rises that we brought in and the corporation tax ones that are due to come in soon ought to be reversed. It is not Conservative to be raising taxes, and it is undermining growth and prosperity. We need to improve productivity and investment, and not weaken it …

I don't think it's a particularly good solution to the social care problem, and I don't think much of the money will end up going to it anyway.

I think the choice at the moment is, do we prioritise the deficit or the debt or do we prioritise growth and getting the economy going again, and I think for the time being we should be prioritising growth.
When Frost resigned as Brexit minister in December, he said he was because he was unhappy with the direction of government policy in a range of areas.
Partygate breaches of lockdown rules in No 10 'very disappointing', says Patrick Vallance
Sir Patrick Vallance, the government's chief scientific adviser, has said that it was "very disappointing" that people in Downing Street did not follow the lockdown rules during the pandemic. Speaking to ITV, when asked if the Partygate had tarnished how he felt about his time in government during the pandemic, Vallace replied:
It was really important at all stages that everyone stuck to the rules, there's no question about that. It only works when people stick to them and it's very disappointing that that wasn't the case.
Vallance was at Windsor Castle for an investiture ceremony, where he was being made made a knight commander of the Order of the Bath (ie, getting a higher class of knighthood).
MPs set to back Labour motion saying government should implement recommendations to strengthen ministerial code
In the Commons MPs are debating a Labour motion saying a motion saying the government should implement in full recommendations from the Committee on Standards in Public Life proposing to beef up the ministerial code. Boris Johnson was widely criticised last week when he issued a revised draft of the code that ignored many of these recommendations and effectively watered down the code in some respects.
Michael Ellis, the Cabinet Office minister and paymaster general, was speaking for the government, responding to Angela Rayner, who opened for Labour. As he finished his speech Ellis said the government would abstain on the motion. He said the government was still considering how it wanted to respond to all the recommendations from the committee.
This means the Labour motion will be passed. This is what it says.
That this house recognises the importance of the ministerial code for maintaining high standards in public life; endorses the Committee on Standards in Public Life report entitled Upholding Standards in Public Life, final report of the Standards Matter 2 review; calls on the government to implement all of the report's recommendations as a matter of urgency; and further calls on the chancellor of the duchy of Lancaster [Stephen Barclay] to make a statement to the house on the progress made in implementing the recommendations by 20 July 2022, and each year subsequently.
I will post more from the opening speeches in the debate soon.
Javid tells cabinet NHS needs reform because it's Blockbuster system 'in age of Netflix'
Boris Johnson told cabinet, in his opening remarks that were televised (see 11.16am), that they needed to come up with ideas for public service reform. At that point Johnson did not give any proper examples of what he meant, but at the Downing Street lobby briefing the PM's spokesperson said that Sajid Javid, the health secretary, made a presentation to cabinet in which he said he wanted to overhaul the use of IT in the NHS. The spokesperson said:
[Javid] updated cabinet on the scale of the challenge post-pandemic – saying we had a Blockbuster healthcare system in the age of Netflix. He said it was no longer simply an option to stick with the status quo. He said large-scale changes were needed in areas such as the use of technology and data to help frontline workers deliver the high-quality service the public expects. He said government investment was delivering some early successes, with 1m checks delivered with the help of 90 new diagnostic centres created since July, with 70 more due to open within two years allowing for 9m extra checks and tests per year.

He said the government had set the NHS a target of dramatically improving productivity to save £4.5bn a year and outlined how the use of AI and technology could help free up clinicians to spend more time to patients.
Javid set out some of these proposals for NHS reform in a major speech in March, but the Blockbuster/Netflix analogy seems to be new.
Ukraine should not be pressured into accepting bad peace deal, Johnson tells cabinet
At the Downing Street lobby briefing the prime minister's spokesperson said that Boris Johnson told ministers at cabinet that Ukraine should not be pressured into accepting "a bad peace". The spokesperson said:
The prime minister concluded cabinet by saying the UK would remain at the forefront of supporting Ukraine. He said it was vital that President Zelenskiy was not pressured into accepting a bad peace, noting that bad peace deals do not last. He said the world must avoid any outcome where Putin's unwarranted aggression appears to have paid off.
Ukrainian president says it's 'great news' that his ally Boris Johnson won confidence vote
Volodymyr Zelenskiy, the Ukrainain president, has said he is "very happy" that Boris Johnson won his confidence vote last night. Speaking at an online event hosted by the Financial Times, and speaking through a translator, Zelenskiy said:
I am very happy about this. Boris Johnson is a true friend of Ukraine. I regard him as our ally, and Great Britain as a great ally.

Boris is supporting us. Boris is very concrete in supporting Ukraine. I do not know who was responsible for this decision yesterday but I'm glad we have not lost a very important ally. This is great news. That is all I can say.
Last night Nadhim Zahawi, the education secretary, was criticised on social media by people who thought he was being tastless or unrealistic when he said that that Zelenskiy would be "punching the air" because of Johnson's win.
Johnson has taken a lead in Europe in urging the international community to supply Ukraine with arms. But his policy has wide support within the Conservative party, and within parliament generally, and Johnson's critics argue that his replacement as PM would not alter UK policy towards Ukraine.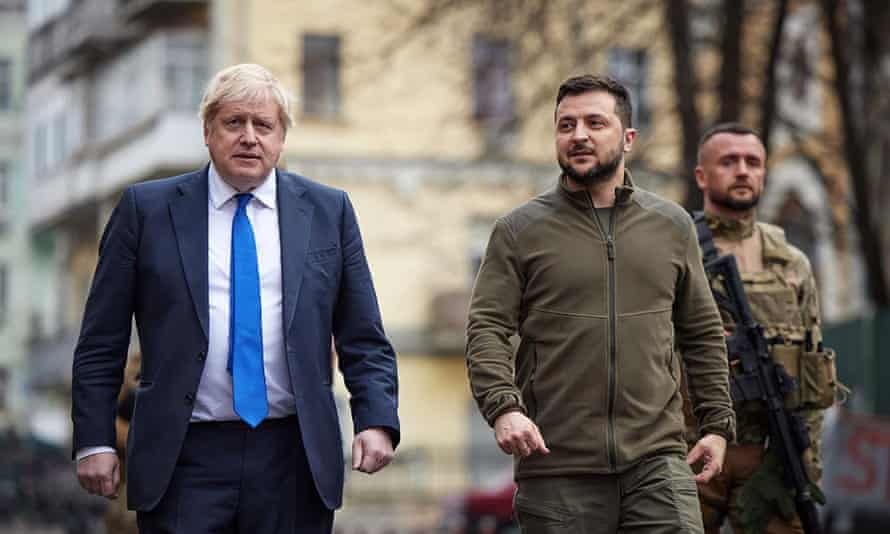 No 10 has announced that Sir Christopher Bellamy QC is being made a justice minister. Bellamy, who is also getting a peerage so he can sit in the Lords, will replace Lord Wolfson, who resigned as a justice minister in April in protest at the law-breaking in No 10 during Partygate, and Boris Johnson's response to it.
Irish foreign minister expresses concern Tory leadership crisis could lead to PM hardening his position on NI protocol
The Irish government is concerned that Boris Johnson may harden his position on the Northern Ireland protocol to shore up his position within the Conservative party, Simon Coveney, the Irish foreign minister, said this morning. He told RTÉ Radio:
If those divisions within the Conservative party impact on Ireland, because the prime minister or the British government decides in order to maintain support within the party that they have to take a tougher line on Brexit, or on the Northern Ireland protocol, well then obviously divisions in the Conservative party and in the British government impact on Ireland. And of course, that's where we have a concern.
The UK government has already said that it plans to legislate to allow it to abandon parts of the Northern Ireland protocol, and the bill is expected to be published shortly. The Irish government wants the protocol to stay, subject to more modest changes agreed with Brussels.
The protocol is part of the UK's Brexit deal with the UK and it imposes some checks on goods going from Britain to Northern Ireland so there is no need for controls at the Ireland/Northern Ireland border.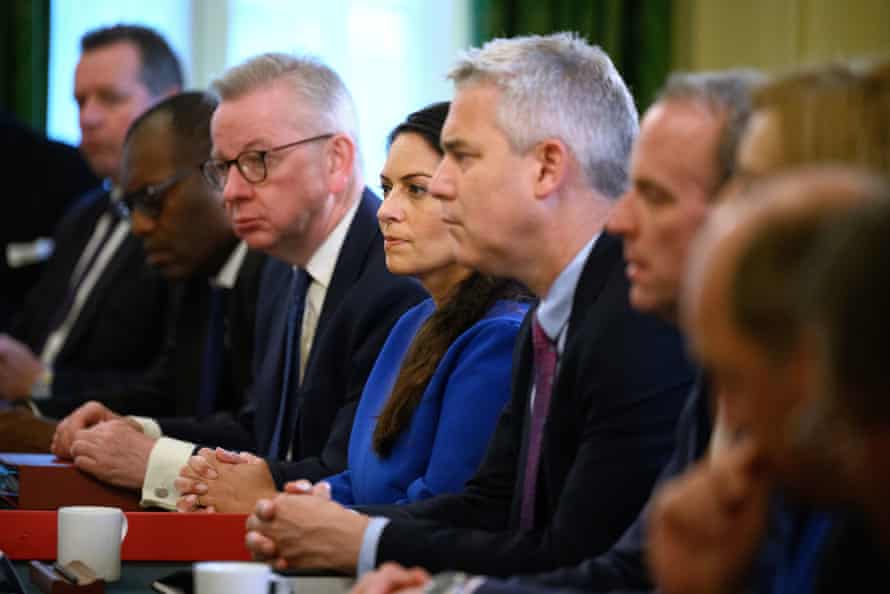 The pound has stumbled lower amid uncertainty over Boris Johnson's leadership despite his victory in Monday's confidence vote and as fears mount over the strength of the UK economy, PA Media reports. PA says:
Sterling was lower against the US dollar and the euro as questions swirled around the prime minister's position, having initially held on to gains after the vote was announced late on Monday.

The pound fell as much as 0.7% to $1.24 and half a cent to €1.17 at one stage on Tuesday – a sharp drop from earlier gains of nearly 1%.

London's FTSE 100 index was also lower, edging down six points at 7602.4 in morning trading.

There are fears in the City over the path ahead for Boris Johnson after 148 of his own MPs voted against him, declaring they had no faith in his ability to lead the party.
The Conservative MP Julian Lewis, who chairs parliament's intelligence and security committee (ISC), has revealed that he voted against Boris Johnson last night. In a statement today, Lewis said Johnson thinks he can ignore the rules and has "an aversion to scrutiny bordering on contempt for the Commons". Lewis said:
The prime minister's record since 2019 has been a mixture of achievements and misadventures.

His difficulties derive largely from a belief that he and favoured friends can disregard rules, which others must follow. This weakens trust in the integrity of parliament. He has an aversion to scrutiny bordering on contempt for the Commons. Impropriety at the top of government is impossible to defend, especially when it is habitual.

Boris's Brexit campaign secures his place in history and this should rightly comfort him.
Lewis had the Tory whip removed for several months in 2020 after he refused to vote for the No 10 candidate to be chair of the ISC, Chris Grayling, and instead arranged to be elected chair himself.