'Better Than Rashford And Martial Combined' – Nigerians React To Ighalo's Move To Man Utd:: All Nigeria Soccer

'Better Than Rashford And Martial Combined' – Nigerians React To Ighalo's Move To Man Utd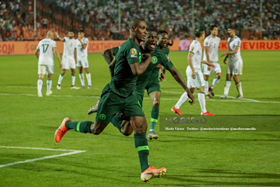 Odion Ighalo made a widely celebrated move to Manchester United on Friday's Transfer Deadline Day.
The transfer has sparked a lot of reactions on Twitter, as United fans and admirers tucked in on the microblogging platform to give their thoughts on his move.
The 30-year-old is set to become the first Nigerian-born footballer to play for Manchester United in history, and this has got his compatriots thrilled.
Check out some of their tweets below :
@KoredeOyewoga : Better than Rashford and Martial combined… Lukaku bowed for King Ighalo.
@uchejombo: Once Ighalo gets confirmed… its going to be tough for you to convince me he's not the best striker in EPL And I will heading his…. ighaloFC. #MUFC Imagine a Nigerian final playing for My Club (Silent prayer) abeg no fall my hand. #DeadlineDay.
@DrJoeAbah: Like this tweet if you believe in the God of Odion Ighalo. He's going to Manchester United. No need to retweet…unless the Spirit moves you. Just like.
@officialBovi: Congratulations to Ighalo on being the first Nigerian to play for Man U. I just hate that he will be the first player to have #coronavirus test included in his medical.
@LawrenceOkoroTL: Meet the best striker in the EPL, he plays for Manchester United and his name is Odion Ighalo.
Africa's greatest and yes he's from Nigeria. #IghaloFC #MUFC.
@tripleonuigbo3: A prime Drogba was one penalty away from winning Ivory Coast the AFCON, But he sent his penalty to Jupiter…. We definitely won't say the same about our Ighalo.
@85OddRomanX: Odion Ighalo has broken the wall of Jericho for future Nigerian footballers hoping to play for United. Legend Status. Congratulations Ighalo.
@Theakinabimboye: The Odion Ighalo Story From Ajegunle to Manchester United.
@BalthassarG: Today should be declared International Ighalo day, it's not everyday we see a Nigerian in that Red shirt #Ighalo.
@GodwinOdiko : With our many injury worries (especially with Rashford out), I see no reason why having Ighalo on short-term basis isn't ideal.
He (Ighalo) is a dangerous finisher on his day. So let's hope for the best from him.
@mr_soccerholic: Odion Jude Ighalo signs for Manchester Utd. First Nigerian to play for Utd's senior team. Congratulations @ighalojude.
@official_oreva: Odion jude ighalo is winning the balon d'or before Neymar, Mbappe and Hazard.Don't @ me #IghaloFC we move.
@iamrahmanosman: Ighalo is breaking the internet in Africa tonight ! You indeed get this kind of blessings if you have an orphanage like he does.
Emmanuel Chinaza