Barcelona's Messi Romance Hanging By A Thread :: All Nigeria Soccer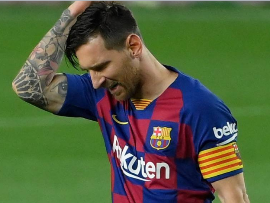 It is arguably true that there is no bigger name in football today than the name Lionel Messi, the demi-god of the Catalan giants FC Barcelona.
Therefore, when the rumour of Messi handing in a transfer request hit the public space earlier this week, it was expected that the reaction in the football world would be far reaching.
In fact, if
betting sites in Nigeria
and other parts of the world had included Messi's departure from Barcelona as an event for prediction, there would have been an overwhelming wager on that particular event.
So many
FC Barcelona faithful
trooped to the Camp Nou within the week while the meeting of the club's board was in session, demanding the resignation of club president
Josep Bartomeu
in order to pacify Messi into staying back at the only club he has represented all his life as a professional footballer.
It is no surprise to see a president of a club at peril over a single player's decision to quit the club.
Messi has practically earned the right to be called Mr. Barcelona with his amazing personal contributions to the club.
Having joined the club as a boy at the age of 13, he has gone on to help the club win 33 trophies including UEFA Champions League titles (4), La Liga titles (10), COPA del Rey (6), UEFA Super Cups (3), and Club World Cups (3).
His sterling individual awards points to why he is regarded in football as arguably the greatest of all time with award cabinet that boast of one (1) Golden Boy award, European Golden Shoe Award (6), Pichichi (7), UEFA Men's Player of the year (2), Ballon d' Or (6), Best FIFA Men's Player Award (1), and FIFA World Player of the Year Award (1).
FC Barcelona was almost unbeatable when Messi is at his best which was more often than not.
His combination with great players like Eto, Iniesta, Xavi, and more recently Neymar and Suarez was so effectively devastating and a beauty to behold.
While many coaches had come and gone, some of them successful and some others not so lucky, Lionel Messi has remained a cult hero for fans and foes of FC Barcelona.
However, the unfortunate humiliation of the Catalan giants in the hands of Bayern Munich who whitewashed them by a scandalous margin of 8 goals to 2 in the quarter-finals of the 2019/20
UEFA Champions League
season has opened a new reality for the club that even demi-gods become legends, and legends are often woven into history while men face the challenges of the present.
Messi has played his part and with age fast catching up with him, the responsibility of singularly carrying the weight of a prestigious football club like FC Barcelona upon his shoulders is too much to handle.
Indeed Messi has defined Barcelona in ways that no other single player has defined a club, but it is evident that sooner or later, this romance must come to an end.
Remi Olatunde