'Arsenal New Signing' – Chelsea's Nigerian Fans Go After Referee Anthony Taylor After FA Cup Loss :: All Nigeria Soccer
'Arsenal New Signing' – Chelsea's Nigerian Fans Go After Referee Anthony Taylor After FA Cup Loss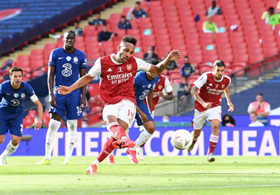 Several Chelsea fans here in Nigeria have criticized the performance of referee Anthony Taylor in the wake of their 2-1 loss to Arsenal in the final of the 2020 FA Cup on Saturday evening.
They believe that significant refereeing decisions made by the Manchester-born official cost them a ninth FA Cup win in their history.
A penalty awarded after Pierre-Emerick Aubameyang was brought down in the 28th minute, two yellow cards shown to
Mateo Kovačić, and Arsenal goalkeeper Emiliano Martinez appearing to handle the ball outside his penalty area are some of the decisions that didn't go Chelsea's way in the loss to their London rivals.
Taylor was the same referee that officiated the 2017 FA Cup showpiece between Chelsea and Arsenal, and sent off Victor Moses for simulating a foul; something that still lingers on in the memories of Blues supporters.
Here's what Chelsea fans are saying on Twitter :
@Officialregha : "Arsenal New Signing."
@KingBelloIII1 : "Arsenal FC should send their appreciation to Anthony Taylor."
@adeysquare : "Jokes apart Anthony Taylor has an agenda against Chelsea and it has been tolerated for too long!!!"
@Kosikingin1 : "Has any of us Chelsea Fc Fans look up 1Corinthians 10:13? Leave alone Anthony Taylor alone."
@s_obagbemi : "The two issues are mutual exclusive. Agreed, we weren't at our best. But the fact remains that bad decisions took the shine away from what should have been a good testament to the game. This was Tom Hennig Ovrebo all over again Anthony Taylor should be ashamed."
@billbanky : "Anthony Taylor and English FA should come out and explain at least there is VAR".
@evertestimony : "Yeah! Remember I told you the card was never a card. If you listened to the commentator very well, he said Anthony Taylor shouldn't have refreed that match and that he meant no harm to referee officials, but he shouldn't have. That's some of the things EPL need to get right."
@De_Santosx : "Wrong! Anthony Taylor beat Chelsea yesterday to give Arsenal the FA cup".
@kelvinimhensi : "Find someone that will treat you the way Anthony Taylor treated Arsenal yesterday".
@themideoladipo : "Ahhhhh. That ref was crazy. Anthony Taylor and Mike Dean doesn't like Chelsea right from time. So I expected something similar. He was the the one that Refereed our game against ManU that we lost 2-0. Similar poor referring decision."
@c4godwin : "2017: Anthony Taylor sends off Victor Moses for Chelsea against Arsenal in an FA Cup Final after picking up two yellow cards2020: Anthony Taylor sends off Mateo Kovacic for Chelsea against Arsenal in an FA Cup Final after picking up two yellow cardsHistory repeats itself".
@tywo_citadel : "Anthony Taylor won you people the game".
@FemiAdegboyega9 : :"I wasn't happy with the officiating then I thought may be am the one bias…but until I saw his name Anthony Taylor trending on Twitter…and that speaks volumes of compromised he is…FA should look into it".
@Olayemiocraig : "Wrong, thank @EmiratesFACup and Anthony Taylor instead… They did a good job for you".
@fem9c : "Enjoy it while it last but come Sept /Oct you will realise you can't use that cup to play in the UCL and you will realise that the west London club will be the only London club where you can watch Champions League and even in your Thurs night games Anthony Taylor will not help u"
@AlimoshoIsBlue1 : "Please we want the referee investigated and punished. We won't accept apology. It doesn't bring back any trophy or points. Anthony Taylor should pay for all these deliberate actions against us."
@Aworiambassador : "I have always been telling people that Anthony Taylor always makes the wrong calls against Chelsea".
@bukunmi_ade : "it's so clear Anthony Taylor hates chelsea 3 years ago Moses got fouled and the referee said it was a dive  now Kovacic got the ball but it was a second yellow……."
@Lucaze177 : "Poor decisions from @anthonytaylor made every bit of the match tiring for Chelsea fc".
@UbongEdet19 : "Anthony Taylor arsenal new signing".
Ifeanyi Emmanuel
Photo Credit : arsenal.com